Mint-Curry leaves-Cilantro Thuvaiyal (Chutney)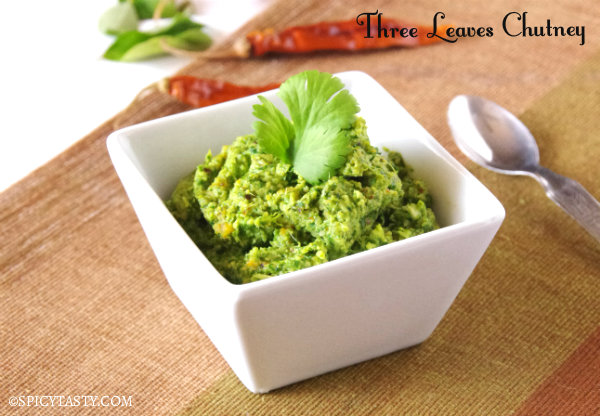 Thuvaiyal/Thogayal is a South Indian condiment. It is more like chutney but a little thick in its form and has lentils and spices along with the main ingredient(s). It is simple and easy to make and a perfect dish for a hurry burry cooking. Mint, curry leaves and cilantro are a great combination for making a spicy thuvaiyal.  It goes well with plain white rice and papad or with rasam/sambar rice or curd rice. It is also good with idli or dosa. Refrigerate it in an air tight container for 4 to 5 days.
Cooking time: 20 minutes
Spice level: 3.5 out of 5
Ingredients:
Coriander leaves or cilantro – 2 cups (packed)
Mint leaves – 1 cup
Curry leaves – 2 to 3 strings
Oil – 1 and 1/2 tsp
Dried red chilies – 3
Ginger – 1″ piece
Urad dal – 1 tsp
Chana dal – 1 tsp
Whole tamarind (no seed) – 1/2 tsp
Shredded coconut – 2 tbsp
Salt to taste
Method of preparation:
Heat oil in a pan and add chana dal, urad dal and dried chilies.
Fry till the lentils become golden brown. Transfer it to a plate and let it cool.
In the same pan, add 1/2 tsp of oil and add ginger, mint, cilantro and curry leaves.
Saute for a couple of minutes over medium heat until the leaves are shrunk (not too much). Allow it to cool.
Pulse the roasted lentils and chilies in a blender for 3 to 4 times.
Add the leaves, tamarind, coconut and salt, grind it to a coarse paste with a little water.
Thuvaiyal is ready.