Chicken Tortilla Pinwheels
I tasted these delicious Pinwheels at our good friends Peter and Romie's place and we fell in love with this dish. It tastes so delicious and you can't stop eating with just one or two slices. I wanted to try this dish for a very long time.
Finally I got a chance to try it yesterday for our subdivision party and no wonder it was a sooper dooper hit. Everyone loved it. Thanks to Peter and Romie.
Preparation Time : 30 minutes preparing and 2 hours of refrigeration.
No Of Servings: 25
Ingredients:
Tortillas: 5 (10 inches), room temperature
Cream Cheese : 8 oz(1 Pack)
Sour Cream : 8 oz(1 cup)
Chopped Black Olives : 1/4 cup
Shredded Cooked Chicken : 12 oz (I've used Tyson cooked White Chicken chunks)
Garlic Powder : 1 tsp or Garlic cloves : 1 (crushed)
Salt to taste
Onion : 2 tbsp
Tomato : 2 tbsp(remove the pulp)
Pepper : 1 tsp
Red Chili Powder : 1/2 tbsp(optional)
In  a large bowl add all the ingredients except tortillas one by one and  beat it well until it's blended.
Now spread onto the flour tortilla, leaving about an inch all the way around.
Roll it up tightly. Wrap this tortillas rolls each with plastic wrap tightly.Twisting the ends.
Refrigerate it for several hours or atleast couple of hours before serving.
After that remove the plastic wrap and slice the roll  into 1/2-in. to 3/4-in. thick. Discard ends. If you have electric knife it works well to slice the roll.
Serve it with salsa.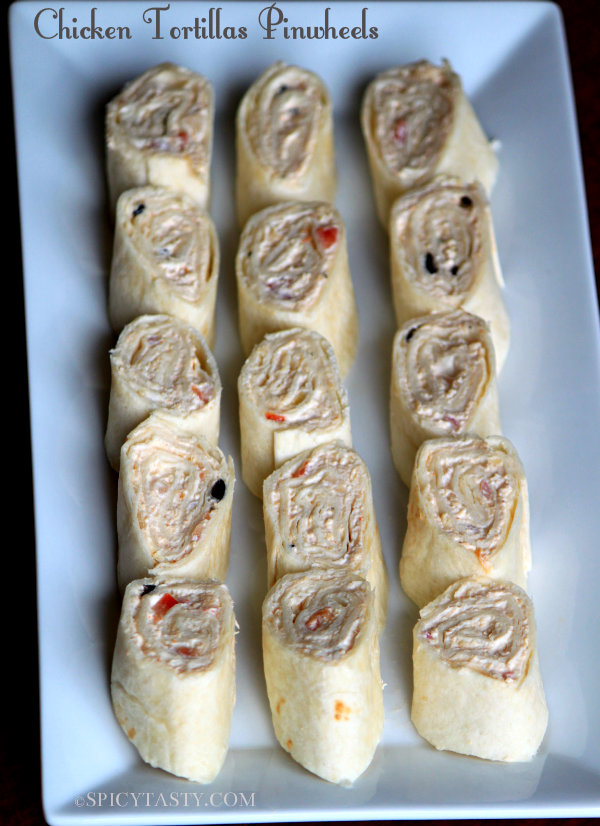 Note:
You can also use homemade shredded chicken. If you are preparing shredded chicken at home  the amount you will need is 2 chicken breast.
You can also make this without chicken.