Paneer Wrap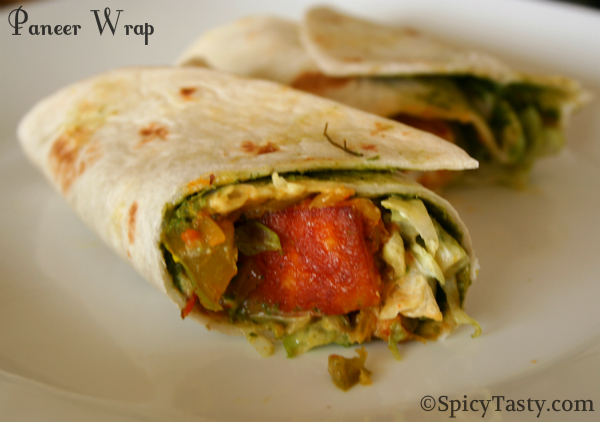 When I went to India this time I tried Paneer wraps in Mc D and I just loved it. I wanted to make it after I come here and it came it too good. It is a very easy lunch box menu and kids will love it.
Ingredients:
Onions – 1 cup (finely chopped)
Ginger – 1 tsp (grated)
Garlic – 1 clove (grated)
Tomatoes – 1 cup (chopped)
Bell pepper – 1 (chopped to small cubes)
Turmeric powder – 1/4 tsp
Red chilli powder – 1 tsp
Cumin powder – 1 tsp
Coriander powder – 1/2 tsp
Kasuri methi – 1 tsp (crushed)
Green chutney – 2 tsp for each wrap (as required)
Ranch – 1/2 tsp for each wrap (as required)
Mayonnaise – 1 tsp for each wrap (as required)
Lettuce – 1/2 cup
Paneer – 1/2 cup (cut into small cubes)
Oil – 3 tsp
Salt – to taste
Tortillas – 5
Heat 1 tsp of oil in a pan and toss the paneer cubes to golden brown and keep them aside.
In the same pan, add oil and fry the onions followed by grated ginger and garlic and fry till the onions become translucent.
Add the bell peppers and fry till they become soft.
Now add the tomatoes followed by some salt, turmeric powder, red chilli powder, cumin powder and coriander powder.
Fry till the raw smell of masala powders go and add the fried paneer.
Combine well and the crushed kasuri methi at the end.
Now filling for the wrap is ready.
Toss the tortillas in a pan for 2 minutes each side.
Spread the green chutney first, then keep around 1 1/2 tsp of filling.
Add some lettuce, ranch, mayo and roll them.
Tasty Paneer wraps are ready.
We can give any kind of variation in sauces.
We can make chapatis and then make the wraps.
The bell peppers should not be too soft. They should be little crunchy.