Paneer Kathi Rolls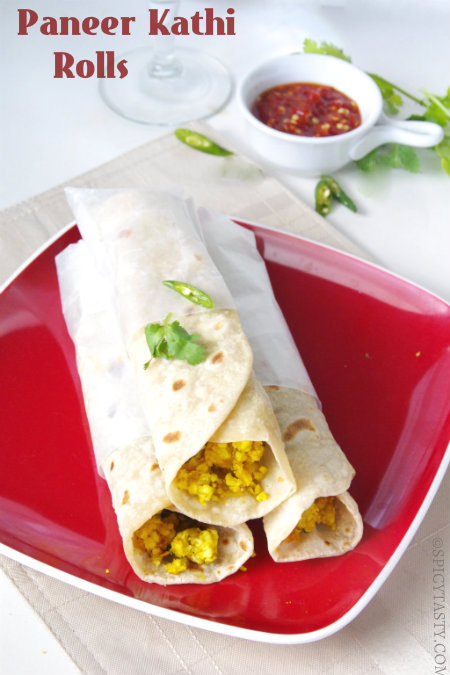 Paneer Kathi Roll also known as Paneer Frankie is a delicious Indian wrap filled with curried paneer (Indiancottage cheese). Frankie Roll is a popular Indian street food in which different types of curries such as paneeer, aloo (potatoes), gobi (cauliflower), meat are stuffed and rolled in a flat bread or roti made from all purpose flour or wheat flour.
A popular chain of fast food known as Tibb's Frankie is a place where we used to get these delicious wraps. Even now when I go to India I don't forget to stop at Tibb's. You can make these wraps and pack it for lunch by wrapping it in an aluminum foil. These are also perfect for picnics.
Preparation time: 60 minutes + 2 hours resting time
Yield: 12 rolls
Ingredients:
For the Roti:
Maida or all purpose flour – 1.5 cups
Wheat flour – 1 cup
Salt to taste
Oil – 3 tsp
For Stuffing:
Shredded paneer – 2 cups
Cumin seeds – 1 tsp
Finely chopped ginger – 1 tbsp
Finely chopped garlic – 1 tbsp
Chopped green chili – 2
Few curry leaves
One big onion
Turmeric powder – 1/4 tsp
Chili powder – 1 tsp
Coriander powder – 2 tsp
Garam masala – 1/2 tsp
Oil – 1 tbsp
Salt to taste
Chopped cilantro – 2 tbsp
Green chutney and Hot sauce for spreading
Method of Preparation:
Making the Roti or Flat Bread:
Mix all purpose flour, wheat flour and salt. Add 2 tsp of oil and knead it to a smooth and soft dough. Knead it for about 8 to 10 minutes. Grease a bowl with the remaining oil and place the dough. Cover and let it rest for 2 hours.
Make big lime size balls from the dough. Dust with flour and roll it into thin round shape like roti. Heat a griddle and add the rolled rotis one by one and cook both the sides. Brown spots will appear on both the sides. Place it in a hot pack or wrap it with a foil.
Preparation of Paneer Stuffing:
Grate paneer. Heat a tablespoon of oil in a pan and add cumin seeds. When it splutters add ginger, garlic, green chilies and curry leaves. Saute for a minute and add onions. Saute until it becomes translucent.
Reduce heat, add turmeric powder, chili and coriander powder, garam masala and salt. Mix well and cook for 5 minutes or until the raw smell is gone.
Add grated paneer, mix well and cook for 5 minutes and turn off the stove. Add chopped cilantro.
Preparation of Wraps:
Spread green chutney and hot sauce on the rotis. Add a couple of tablespoons of Paneer stuffing. Sprinkle a pinch  chaat masala (optional). Fold the bottom portion and roll it.
You can wrap it in foil and pack it for lunch or for picnics.