Strawberry Cupcakes – Valentine's Day Special
I made these simple Strawberry Cupcakes for Valentine's day and they came out so good. I used ready made cake mix for baking these cupcakes. And I made butter cream frosting and this time with a different recipe.
I was looking for an airy butter cream frosting recipe and found one in Foodnetwork website. It came out light, airy and delicious. What more can you ask for a perfect Valentine's day treat.
Preparation time: 40 minutes
Cooking time: 20 minutes
Yield: 10 standard size cupcakes and 9 mini cupcakes
Ingredients:
For Cupcake:
One pack of French Vanilla Cake mix (15.25 oz or 432 grams)
Eggs – 3
Vegetable oil – 1/2 cup (I used canola oil)
Water – 1 cup
Strawberry extract – 1 tsp
For Frosting and decoration:
Egg whites from 2 large eggs
Sugar – 1/3 cup + 1 tsp
Softened Unsalted butter – 15o g or 5.3 oz (1 stick + 1/3 stick of butter)
Strawberry extract or essence – 1 tsp
White Chocolate chips – 1/4 cup
A small ball of rolled red color fondant
Method of Preparation: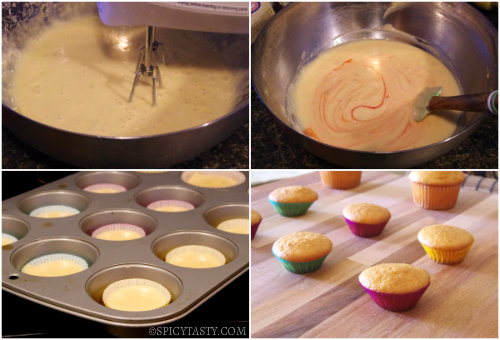 Preheat oven to 350ºF.
Line your muffin tray with paper cups and keep it ready. Mix all the ingredients for cupcake to make a batter. Spoon the batter into the cups using an ice cream scoop till 2/3 rd full.
Bake it for 20 to 25 minutes or until the top becomes golden brown or check if a toothpick inserted comes out clean. Let the cupcakes cool in the tray and then transfer it to a wire rack.
Preparation of Frosting:
Fill a sauce pan with a little water and bring it to a boil and reduce the heat to medium low. Whisk egg whites and sugar in a mixing bowl and place it over the simmering pot. Make sure the bowl is not touching water.
Keep whisking until sugar dissolves in the egg-whites which takes about 3 to 4 minutes. Remove the bowl from heat and beat on medium speed until soft peaks are formed.

Add softened butter (at room temperature) to the egg whites and beat on low speed until it is smooth and shiny. Do not beat it for a long time or on high speed since the consistency of the frosting changes so quickly.
Add strawberry extract and rose gel color to the frosting and mix well with a rubber spatula. Smooth airy butter-cream frosting is ready. Fill a piping bag with the prepared frosting till half full. I used tip 21 for small cupcakes and tip 2D for the bigger cupcakes.
Decorating the cupcakes:
For making white chocolate hearts, you can use parchment paper cone or a zip lock bag or ready made piping bag. Melt white chocolate and transfer it to the cone you are using. and draw hearts on a sheet of parchment paper. Let it dry for 15 minutes. You can use candy melts which is available in different colors for making these chocolate hearts.
In the meantime add red gel color to the fondant and knead it well until the color is spread equally. You can use any color of your choice. With a small cookie cutter or fondant cutter, cut out shapes. I used star and flower shapes. Let it dry for at least half an hour. You can also make them ahead of time.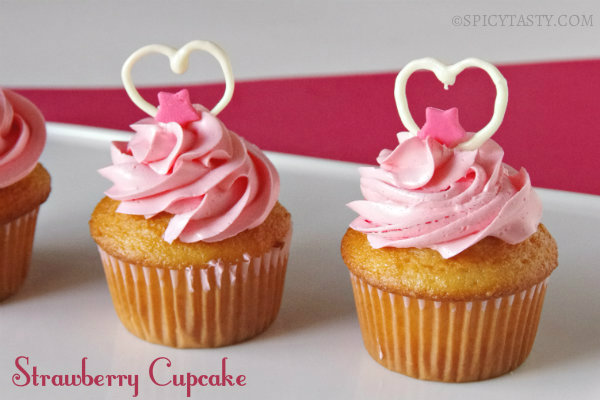 Using your pastry bags, pipe frosting in a spiral motion on each cupcake covering the top portion. Place the chocolate hearts and a fondant star or flower on each cupcake.
Lovely Strawberry cupcakes are ready for the party.