Quinoa Salad with Corn and Beans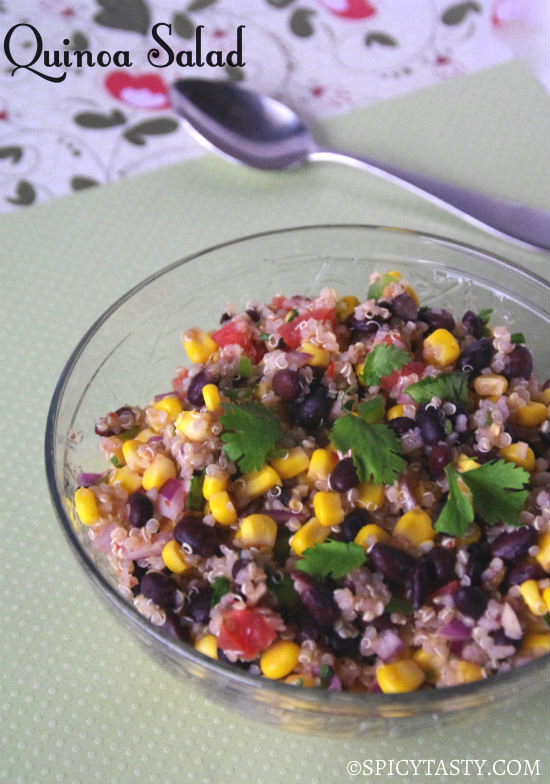 Quinoa is a nutritional whole grain or seed rich in protein and low in fat content. One cup of cooked quinoa has about 8 grams of protein. It is great source of protein for vegetarians and vegans. It is also rich in vitamins and minerals which are essential for growing and repairing body tissues. You can cook quinoa just like rice with 1:2 ratio water. Boil until it becomes fluffy.
The salad that I have made today is so easy and it takes only few minutes to put together. You can have this salad warm or chilled. It is light and filling, also perfect for your lunchbox. I was looking for a nice and easy recipe for quinoa salad and a friend of mine forwarded this recipe. I tweaked it a bit to satisfy my taste buds and it came out so good. Give it a try and share your thoughts with us.
Preparation time: 30 minutes
No. of servings: 4
Spice level: 3 out of 5
Ingredients:
Cooked Quinoa – 1 and 3/4 cups
Canned black beans – 15 oz (425 grams)
Fresh or Canned Sweet Corn Kernels – 15 oz (425 grams)
Medium size tomato – 1

Half green bell pepper 

Jalapeno – 1
Chopped onion – 1/2 cup
Garlic – 1 big clove
Lime juice – from one lime
Chili garlic sauce or hot sauce – 1 tsp
Pepper powder – 1/4 tsp
Oil – 1 tsp
Cumin – 1 tsp
Salt to taste
 Method of Preparation: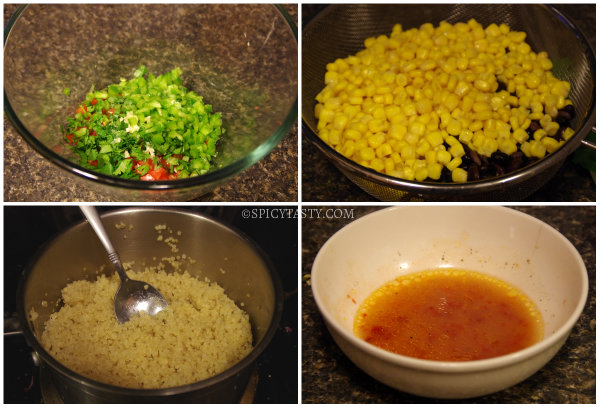 Cook Quinoa according to package instructions. Or cook 1 cup of quinoa with 2 cups of water. Boil water and add quinoa, reduce the heat and let it cook for 15 to 20 minutes.

Finely chop onions, tomatoes, jalapenos, bell pepper, garlic. Add it to a mixing bowl. Rinse the canned corn and beans and add it to the bowl. Add 1.75 cups of cooked quinoa. You can adjust the quantity of corn, beans and quinoa according to your taste.
In a bowl combine lime juice, hot sauce, oil, salt and pepper. Add this to the salad bowl and mix well. Check for seasoning and add more if necessary.