Tomato and Balsamic Bruschetta
Recently I've tasted this Balsamic Bruschetta in a party and since then I wanted to try this recipe. I've always love the taste of Balsamic Vinegar. It gives such a special kick which makes the dish really delicious. Bruschetta makes the perefect and light appetizer.
If you are looking for some easy and delicious appetizer for christmas, here is the recipe for you.
Also check out our Christmas recipe collection here.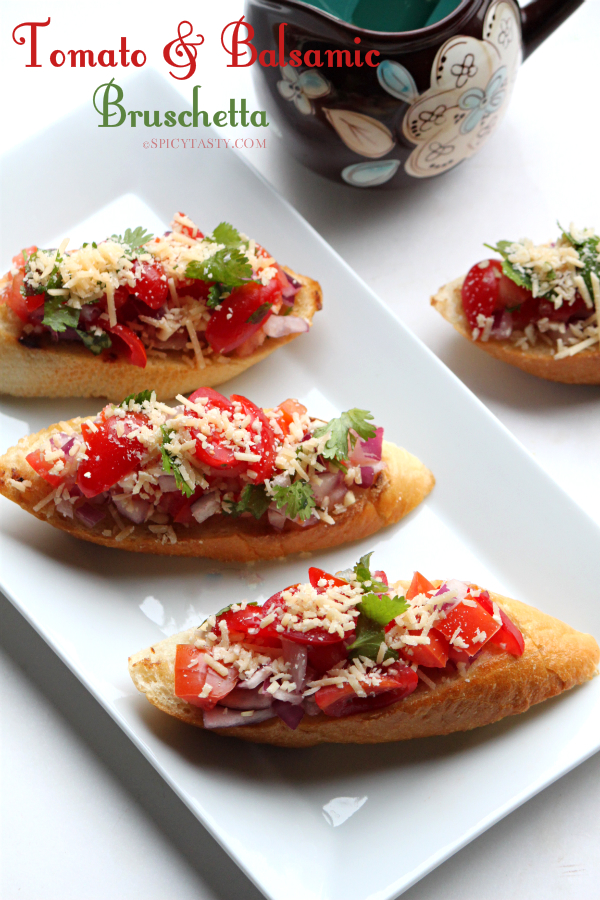 Preparation Time : 15 minutes.
No of servings : 6-7
Roma Plum Tomatoes : 8
Fresh Basil : 2 tbsp (chopped)
Parmesan Cheese : 1/4 cup(Shredded)
Red Onion : 1/2 medium (Finely Chopped)
Garlic : 2-3cloves(finely chopped)
Balsamic Vinegar : 1 tbsp
Olive oil : 1 tbsp
Salt : to taste
Ground Black Pepper: 1/4 tsp
French Loaf Bread : 1 Toasted and sliced
Cilantro or Parsley : for garnishing
Slice the french loaf and toast it. Brush olive oil on the toasted bread slices.
In a wide bowl toss together the tomatoes, basil, Parmesan cheese, and garlic.
After that add balsamic vinegar, olive oil, salt, and pepper and mix it together.
And serve on toasted bread slices and sprinkle some cheese and cilantro or parsley on top(if you want).