Stuffed Mushrooms
Happy Thanksgiving to all our readers!!
Stuffed Mushrooms are one of my favorite appetizers. Being a vegetarian, I don't get to enjoy Stuffed Mushrooms from most of the restaurants here where they fill it with meat. So I have always wanted to try this dish and finally I did it. This is an easy recipe to follow and I was amazed by the results. My husband (GS) and I couldn't stop ourselves from finishing the whole plate. Good food always brings more joy, isn't it!!
You need a good dry white wine and Marsala wine for this recipe. You can fill the mushrooms the previous night, pop them in the refrigerator and bake them just before serving. Make your family and friends happy with this delicious appetizers and once again, Happy Thanksgiving!!
Preparation time: 45 minutes
Baking time: 30 minutes
No. of servings: 5
Ingredients:
White button mushrooms – 25
Olive oil – 5 tbsp
Marsala wine – 4 tbsp
Garlic – 2
Chopped onion – 1/4 cup
Chopped scallions or green onions – 1/3 cup
Panko bread crumbs – 1/4 cup
Shredded Fontina cheese – 3/4 cup
Shredded Parmesan cheese – 1/2 cup
Chopped parsley – 1 tbsp
Fresh or dried oregano – 1 tsp
Salt and pepper
For White Wine Sauce:
Butter – 2 tbsp
Garlic cloves – 2
Dry white wine – 1/3 cup
White wine vinegar – 2 tbsp
Method of Preparation:
Preparation of Stuffing: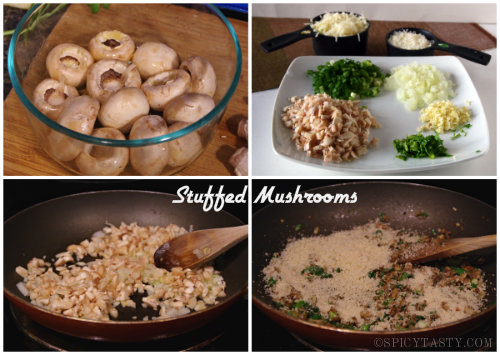 Preheat oven to 375ºF.
Wipe off mushrooms with a paper towel and snap off the stem and finely chop the mushroom stems.
Transfer the mushrooms to a bowl and pour in 3 tbsp of olive oil and 4 tbsp of Marsala wine. Mix well so that mushrooms are well coated. Let it rest.
Heat 1 and 1/2 tbsp of olive oil over medium heat in a pan and add chopped garlic.
Add onions, chopped mushroom stems and saute or fry until mushroom shrinks and cooked.
Add a little salt and oregano and continue to saute for a minute.
Add green onions, parsley and toss for a minute and then add breadcrumbs. You can substitute Panko breadcrumbs with the Italian or regular breadcrumbs.
Mix everything well and add salt and pepper.
After a minute remove from heat and transfer it to a bowl and add grated Fontina and Parmesan cheese. Mix well.
Stuffing is ready.
Heat butter in a pan and add chopped garlic followed by white wine and vinegar.
Let it reduce over low heat. It takes about 5 to 10 mins.
Wine sauce is ready.
Preparation of Stuffed Mushrooms:
 Fill each mushroom with the cheese mixture and arrange it in a baking dish.
Pour the wine sauce to the baking dish and bake for 30 minutes or until the cheese melts and the mushrooms are tender and browned.
Serve hot.