Quinoa Oat Muffins (Gluten Free and Dairy Free)
I was looking for a healthy and delicious muffin recipe with whole grains for my 28 Day Weight Loss and Detox Diet. This recipe caught my eye in Pinterest and I decided to give it a try. I made a few changes to the original recipe and the output was delicious. I have used all gluten free ingredients. It definitely satisfies my sweet cravings and it is guilt free. When you are on this diet, do not eat more than one muffin per day.
Preparation time: 10 minutes
Cooking time: 25 minutes
Yield: 9 muffins
Ingredients:
Oat flour – 1.5 cups
Instant oats – 1/4 cup
Oat bran – 1/4 cup
Cooked Quinoa – 1/3 cup
Almond butter – 3 tbsp
Agave nectar – 3 tbsp
Sugar substitute – 3 packets (I used stevia)
Canola oil – 3 tbsp
Chopped toasted walnuts – 1/4 cup
Dark chocolate chips – 2 tbsp
Almond milk – 1/2 cup
Egg – 1
Method of Preparation: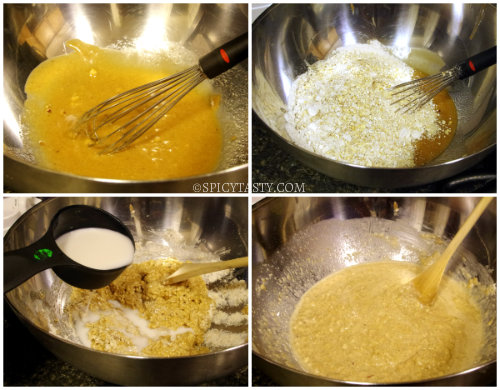 Preheat oven to 425ºF (220ºC).
In a mixing bowl stir oil, stevia, agave nectar and almond butter. Add egg and beat well. Stir in oat flour, instant oats and oat bran along with almond milk.
Mix in cooked quinoa, walnuts and chocolate chips. Scoop into the muffin tray lined with paper cups.
Bake for 5 mins at 425ºF and then reduce the heat to 350ºF and bake for 15 to 20 minutes.
Note:
For cooking quinoa: 1:2 ratio, that is 1 part quinoa is cooked with 2 parts of water until soft.
You can substitute stevia with splenda or any sugar substitute. If you want to avoid agave nectar add more stevia instead.
For the original recipe, check thepancakeprincess.