Sathu Maavu Kanji – Health Mix Powder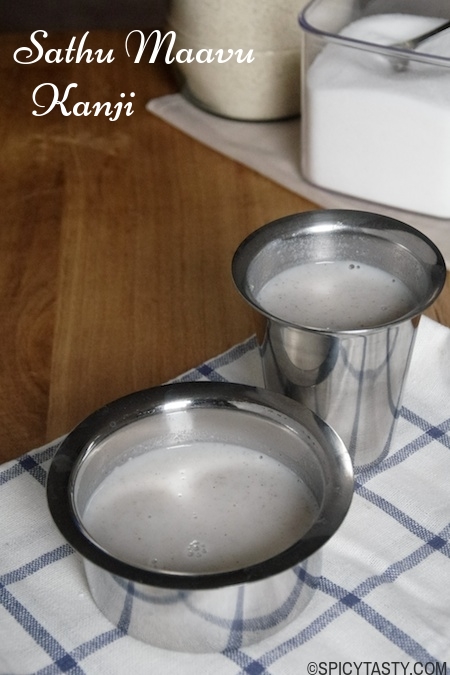 No. of servings: 3
Preparation time: 15 minutes
Ingredients:
Ragi flour – 200 grams
Wheat flour – 200 grams

Bhajra flour (pearl millet or kambu flour) – 200 grams

Par boiled rice (pulungal arisi) – 100 grams
Barley – 50 gram

Tapiaco pearls (javvarisi or sago) – 50 grams

Whole green moong bean – 200 grams

Peanuts – 2 tbsp (with or without skin)

Almonds – 1/4 cup
Cashew nut – 5 to 6
Dried ginger (sukku) – 1″ piece
Cardamom – 15
Chickpea or dry garbanzo beans – 2 tbsp
Roasted chickpea (pottukadalai) – 2 tbsp
Method of Preparation:
Dry roast peanuts, pottukadalai and chickpeas, cardamom separately. And then dry roast par boiled rice.
Also dry roast moong bean, almonds and cashews separately until just before it changes color. Dry roast other flours one by one until a nice aroma starts spreading.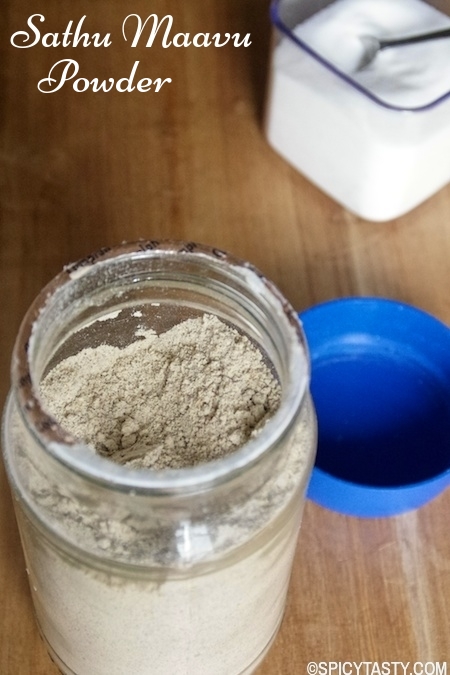 Grind moong bean separately and all the other legumes, nuts and cardamom along separately until it becomes a coarse powder. Like wise pulse the rice a few times until coarse. Add everything together and grind it to a fine powder or a little coarsely. I grind it not too fine.
How to make Porridge or Kanji:
Health mix powder – 2 tbsp
Water – 2 cups
Milk – 2 cups
Sugar – 3 tsp (adjust to taste)
In 2 cups of water dissolve kanji powder. Over medium heat bring it to a boil. Keep stirring to avoid forming any lumps.
When it starts becoming thick add milk, mix well.

Bring it to a boil and turn off the heat. Do not let it become thick. Add sugar and mix well. Serve in tall glasses.