Christmas Fruit Cake

Fruit Cake and Christmas cake are synonymous to a lot of people celebrating Christmas. I like fruit cake for its rich texture, ingredients and the flavorful taste. Another reason to make Fruit Cake at this time of the year is it is easier to get candied/glazed fruits now than at other times of the year. This cake can last you for a while if you kept the surface moist and prevent it from going dry.
Most fruitcake recipes call for the addition of a small amount of alcohol but you can make your own non-alcoholic version as well.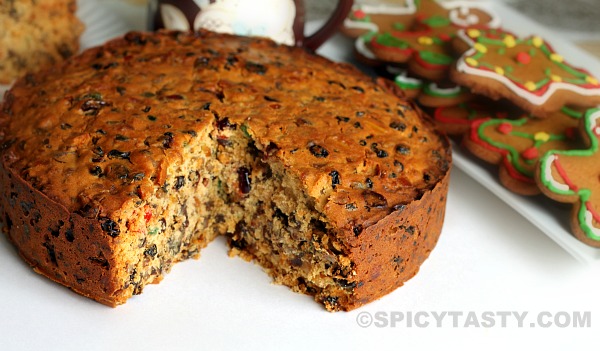 Preparatin Time : 30 minutes
Baking time : 2 hours 30 minutes
No of servings : 10-15
Ingredients:
Unsalted Butter : 1 cup
Light Brown Sugar : 1/2 cup
Dark Brown Sugar : 1/2 cup
Eggs : 3 (large)
Brandy : 2 tbsp plus 3 tbsp for soaking dried fruits (optional)
Orange juice : 1 cup
Orange Zest (grated outer skin of orange) : 1 orange
Lemon Zest (grated outer yellow skin) : 1 lemon
Nuts : 1 cup (I've used pecans, walnuts and hazelnuts)(chopped)
Assorted Dried Fruits : 1 & 3/4lb (i've used prunes, dried cranberries, glazed cherries, raisins, sultans, currants)
All Purpose Flour : 2 cups
Baking Powder : 1 tsp
Orange juice : 1 cup
Method Of Preparation:
I soaked the dried fruits in 3 tbsp of brandy for a month or  you can just soak it overnight. If you are making non alcoholic version skip this step.
Grease the bottom of the spring form round shaped pan (9 inch ) witha removable bottom or you can use a 9 inch loaf pan.
Line the bottom of the pan with buttered parchment paper.
Now preheat the oven to 325 degrees F.
In a large  bowl beat the butter and light and brown sugars using electric mixer or hand mixer (I used hand mixer) until it becomes light and fluffy as shown in pic. It will take approximately about 10-15 minutes.
After that add the eggs one at a time by beating well after each addition. Scrape down the sides of the bowl as needed.
Now add the 2 tbsp brandy, 1 cup orange juice and zest of orange and lemon. Mix it up gently using a wooden spatula.
Then fold that mixture in the ground nuts and all the dried fruits. Keep this aside.
Now in a separate bowl mix all purpose flour, baking powder and salt.
Now gently and slowly fold  this mixture  into the cake batter (from step 8) using an wooden spatula. The consistency should be really thick as shown in pic.
Scrape this batter into the prepared pan and evenly spread it out.
Now place this batter pan into a large baking sheet.
Now bake this in the preheated oven for 1 hr and reduce the oven temperature to 300 degrees and bake it for another 1 hour 30 minutes or until a long skewer inserted into the center of the cake comes out clean.
After that remove the cake from oven and place on a wire rack and let it cool completely.
Using a  skewer poke holes in the top surface of the cake and brush it with little brandy (If you are making non-alcoholic version brush it with apple juice or orange juice).
You can keep this cake for several weeks by store it in a tight container or wrap it with plastic wrap and keep it a plastic bag.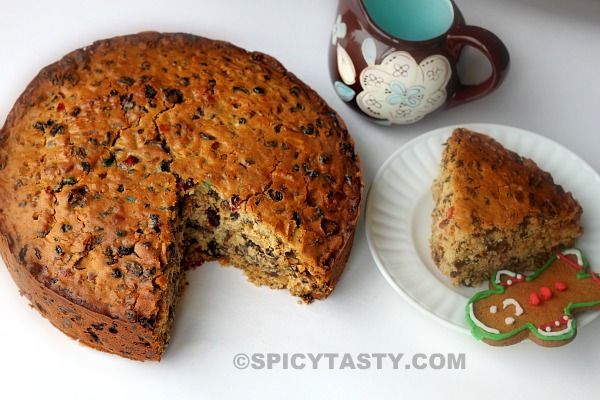 Here is another version of this homemade Fruit Cake recipe on our site.