Homemade Fruit Cake
It's Christmas time. Are you ready to make your Fruit Cake? Fruit cake is a tradition in most of the families during Christmas. My friend's mom make it every year and distribute it to her family and friends. It's my favorite. This year I want to try it myself for my family and friends. I adapted this recipe from Food Network's Free Range FruitCake by Alton. And I used my own techniques to obtain a soft and moist cake. The secret of this recipe is addition of molasses and honey which gives a nice color and a moist texture.
This cake can be made in advance, say before 2 weeks to one month and stored in a dark cool place or your refrigerator. You can also make two and store one in the freezer for later use. Before freezing the cake, store it in refrigerator for a month. Also make sure you bring it to the room temperature before serving. If you do not want to use alcohol, you can substitute it with orange juice or apple juice or both. For moist cake, prepare a thin sugar syrup and brush it on top. You can use any dry fruits and nuts of your choice. There is no restriction. Same is applicable to spices. Finally, soak your dry fruits from 24 hours to several months. I soaked it for 3 days due to the short of time. This is the right time to bake your cake since the flavor enhances by time. Hope you try this at home and enjoy your Christmas. Merry Christmas to all of you…
Preparation time: 2 hours (excluding soaking time)
No. of servings: 10 slices
Ingredients:

Things to soak:
Raisins – 1/2 cup
Mixed candied fruits (tutti frutti) – 1/2 cup
Chopped dates – 1/2 cup
Mixed dry fruits – 1/4 cup (such as currants, apricot, pineapple, cranberries,etc.)
Zest of one lemon, coarsely chopped
Zest of half orange, coarsely chopped
Chopped candied ginger – 3 tbsp (or chopped fresh ginger – 1 tsp)
Brandy – 2 tbsp
Gold rum – 2 tbsp
Red wine – 2 tbsp
Broken Nuts – 2 cups (I used walnuts and cashew nut)
You can substitute alcohol with orange juice or apple juice or a combination of both.

Spices:
Ground cinnamon – 1/2 tsp
5 allspice berries
4 cloves
Grated nutmeg – 1/4 tsp
2 cardamom
Grind all the spices to a fine powder.

For cake:
Unsalted butter – 2 cups (room temperature)
Molasses – 2 tbsp
Honey – 1 tbsp
Apple sauce – 1/2 cup
Brown sugar – 3/4 cup
Large eggs – 2 (room temperature)
Vanilla extract – 1 tsp
All purpose flour – 3 cups
Baking powder – 1 tsp
Baking soda – 1tsp
Salt – 1 tsp
Brandy for brushing
Method of Preparation: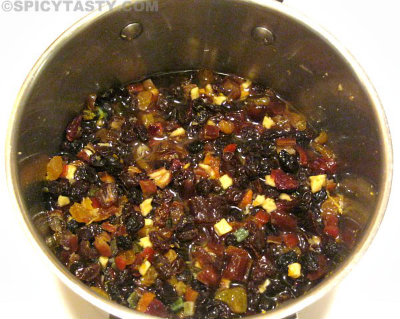 Soak the candied fruits and all the dry fruits along with lemon zest, orange zest and ginger in rum, brandy and wine for 24 hours in a non reactive container (can be glass, plastic or stainless steel).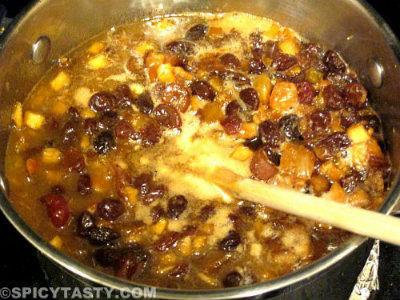 In a stainless steel pot or a non reactive pot add apple sauce, 4 tbsp butter, ground spices, molasses and honey along with the soaked fruit and bring it to a boil over medium heat. Use a wooden spoon to mix well.

When it starts boiling, simmer and let it bubble for 10 to 15 minutes. Remove from heat and let it cool for 20 minutes.
Preheat oven to 325°F (approximately 176°C).

In a mixing bowl, add the remaining butter and sugar. Beat it with a hand mixer or stand mixer until creamy and fluffy. Scrape the sides occasionally. Add eggs one by one, beating everytime until it is well incorporated. Add vanilla extract and mix well.

In a separate bowl, sift together all purpose flour, baking powder, baking soda and salt. Add 1.25 cups of dry ingredients to the wet ingredients in three batches and mix well.
Mix the remaining 3/4 cup flour with the dry fruits mixture. Add this to the batter along with broken nuts and mix well using a rubber or wooden spatula.

Grease a 9 inch loaf pan with cooking spray or butter and flour it. Transfer the contents to it and place the loaf pan on a baking sheet. Bake it for one hour and 15 minutes. You can use any baking pan but the cooking time may vary.
Keep an eye on your cake and after the first 45 minutes check every 1o minutes. For the last 10 minutes cover the cake with aluminum foil and cook if the top is browning.

Insert a skewer or a toothpick and check if it comes out clean. If so then the cake is done. Remove from oven and brush it with some brandy when it is hot. Let it cool in the pan for 20 minutes.

Then transfer it to a cooling rack and let it cool completely. Wrap it with plastic wrap and then with aluminum foil and store it for a couple of weeks or even for month before serving.

The flavor enhances by the day. You can wrap it up and store it in a cool place or refrigerator. Bring it to room temperature before serving.

Enjoy your Christmas with this delicious home made fruit cake!!