Classic Baguette
This is an easy recipe for making delicious homemade Baguettes. The ingredients and procedure are basic and simple and the results are great. I followed this recipe from the book "Cooking Light Way To Bake". But the amount of yeast they have used for 3 cups of flour was more than how much I have used here. The actual recipe stated 1 packet (2 and 1/4 tsp) of yeast. After I baked the bread it smelled like yeast and I didn't like it.
So I used less yeast and increased the rising time. It worked and still the results were the same. Enjoy your homemade baguettes. Fresh homemade baguettes are wonderful for sandwiches, soups or toasts.
Preparation time: 3 hours
Baking time: 20 minutes
Yield: Two 12″ loaves
Ingredients:
Bread flour – 3 cups (400 gram)
Active dry yeast – 1 and 1/2 tsp
Salt – 1 and 1/2 tsp
Warm water – 1 and 1/4 cup
Sugar – 1/2 tsp
Method of Preparation:
Weigh flour or spoon it into measuring cups and level with a knife. Add yeast to the warm water with 1/2 tsp of sugar and let it stand for 5 minutes.
Reserve 1/4 cup of flour. Make a well in the remaining 2 and 3/4 cups of flour and add the yeast mixture to flour and mix well to form a soft dough. Cover and let it stand for 25 minutes.
Transfer the dough to a floured surface and sprinkle evenly with salt. Knead the dough for about 6 minutes adding until smooth and elastic by adding 1 tbsp of flour at a time. Sometimes you may need more than the reserved flour.
Dough will be slightly sticky. Place it i a bowl greased with oil and rub the dough with oil and cover and let it rise in a warm place for about 90 minutes to 2 ours until double in size. To check if the risen enough: gently press with your finger into dough. If the indentation remains, dough has risen enough.
Punch down the dough and let it stand for 5 minutes. Divide it into two equal portions. Make a rope of 12″ in size with each portions and place it on a baking sheet sprinkled with corn meal.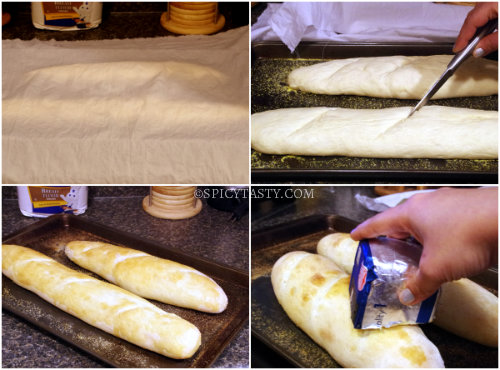 Preheat oven to 450ºF.
Spray it with cooking spray or oil. Cover it with a moist cloth and let it rise for 30 to 40 minutes until double in size. Remove the cloth and cut diagonal slits (about 1/4″) on top of the loafs.
Bake for 20 minutes or until loaves become golden brown on top and browned on bottom. Rub it with butter and let it cool. Fresh homemade baguette is ready.