Mango Cheesecake
Are you looking for an easy cheesecake recipe then you are in the right place. Though it is a bit time consuming for the preparation, baking and cooling process, the recipe is simple. But you have to plan ahead to make this cake. It is a perfect dessert for parties and get-togethers.  It is summer time… So let's enjoy some tropical fruit dessert.
Preparation/cooking time: 2 hours (plus inactive time 8 hrs)
Servings: 10
Ingredients:
Cream Cheese – one 8 oz package (226 gram)
Ricotta Cheese – 16 oz (454 grams)
Mango pulp – one 32 oz can (850 gram)
Graham crackers or digestive biscuits crumbs – 1.25 cups (8 to 10 crackers)
Butter – 4 tbsp
Large eggs – 3
Vanilla extract – 1 tsp
Small lemon – 1
Confectioner's sugar (icing sugar)  – 1.5 cups (sifted)
Sugar – 3 tbsp
Method of Preparation:
Line a strainer with cheese cloth and place it on a bowl. Drain ricotta cheese in the cheese cloth overnight, refrigerated.
Preheat oven to 350ºF.
Grease an 8 inch or 9 inch springform pan with butter.
Melt butter and let it cool. Place graham crackers in the food processor and grind until coarse and even. Add melted butter and process until it becomes moist.
Transfer it to the greased pan and press evenly to cover the bottom of the pan. Bake for 15 minutes until the crust becomes golden and set.
Prepare a water bath. Boil water and pour it in a deep wide pan.
Cover the springform pan with two layers of aluminum foil. This is to protect water from entering the pan. Grease the sides of the baking pan with butter.
In a food processor or a blender add cream cheese, ricotta cheese and blend until smooth.
Add eggs one by one beating every time until mixed.
Add vanilla extract and give it a stir.
Add confectioner's sugar and blend well until smooth followed by 3/4th can of the mango pulp.
Blend everything until smooth. Add zest from one lemon and stir well.
Add this to the springform pan and
Place it in the water bath. Make sure the pan is not more than half immersed.
Bake for 1 hour and 30 minutes or until the edges becomes golden brown but the center is still shaky.
Remove from oven and let it cool for 20 minutes.
Preparation of Mango Glaze:
In a pan add the remaining mango pulp, 3 tbsp sugar, juice from one lemon. Over medium heat bring it to a boil and keep stirring for 3 minutes until it just starts thickening.
Remove from heat and let it cool.
Add  it to the cooled cake and let it set. It takes an hour or two. Refrigerate the cake and serve chill.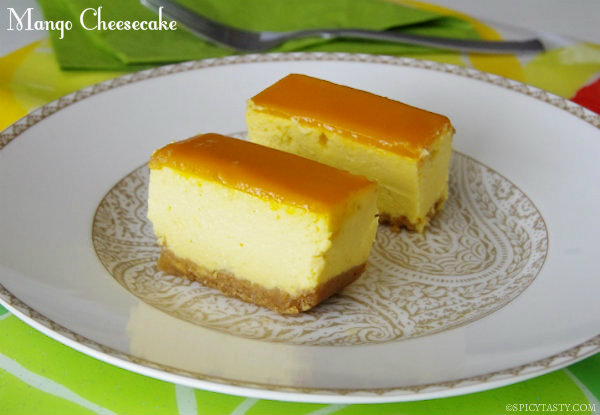 Note:
If you don't have springform pan, you can use a rectangle or square pan and line it with parchment paper so that it will be easy to lift the cake.
To adjust the sweet level, you can add half of the confectioners sugar and mango pulp initially. Taste and add more if required.
Ricotta cheese is light compared the cream cheese. But if you don't get ricotta cheese you can substitute it with cream cheese.