Simple Fondant Cake and a Happy New Year 2013
SpicyTasty wishes all our readers and well wishers a very Happy and Prosperous New Year!!!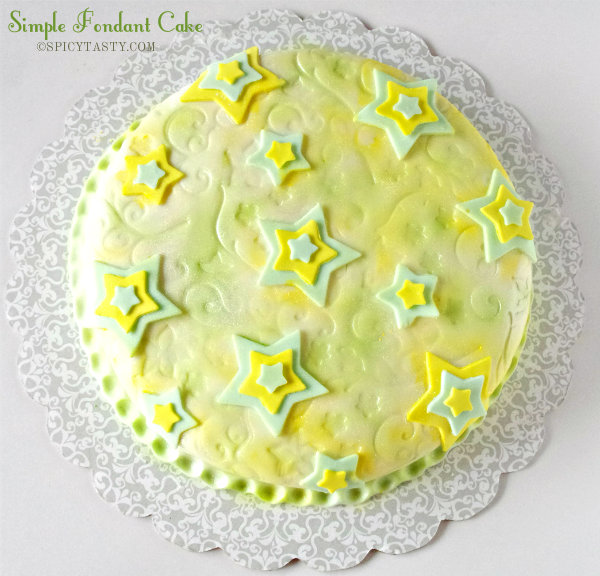 I recently took Wilton's "Gum Paste and Fondant" course which helped me to kick start my adventure with fondant decoration.
Fondant is a kind of icing used to cover and decorate the cake. There are rolled fondant and pourable fondants. Rolled fondant is commonly used  to decorate wedding cakes. Roll it out like cookie dough and use it for covering the cake. Using fondant tools, we can cut it into different patterns and shapes to decorate the cake. You can make flavored fondant by adding flavorings to the plain fondant.
I used a basic white cake for making this fondant cake. You can find the recipe for the white cake below. I used store bought fondant (Duff's) to cover the cake. To make the stars I took equal portion of gum paste and fondant and added  gel color and kneaded it well. Using star cutters, I made these star patterns and stuck it on top using edible glue.
Soon I will be sharing the recipe for fondant in another post. Enjoy your New Year with family and friends!!
For Moist Basic White Cake:
Unsalted butter (at room temperature) – 1/2 cup (1 stick)
Granulated white sugar – 1 cup
Large eggs – 2 (separated)
Pure vanilla extract – 1 tsp
All purpose flour – 1  3/4 cup
Baking powder – 2 tsp
Cream of tartar – 1/8 tsp or a pinch
Salt – 1/4 tsp
Milk – 1/4 cup
Oil – 1/4 cup
Method:
Separate egg whites and yolks.
Add egg whites to a bowl beat it using an electric mixer or in a stand mixer until foamy. Add cream of tartar and beat until soft peaks are formed.
Add the rest of the sugar (1/4 cup) slowly and beat until stiff peaks are formed. Transfer it to another bowl if you are using the stand mixer.
Cream butter using the mixer and add 3/4 cup of sugar and beat it until fluffy and creamy. Scrape the sides occasionally.
Add egg yolks to the mixing bowl one at a time and beat well followed by vanilla extract.
Finally add milk and oil to the bowl and mix well.
Sift flour, baking powder and salt together and add it to the wet ingredients in the bowl in three batches beating at low speed.
Remove the mixer and gently fold in the egg whites until combined well.