Green Chutney for Sandwich (Mint and Cilantro)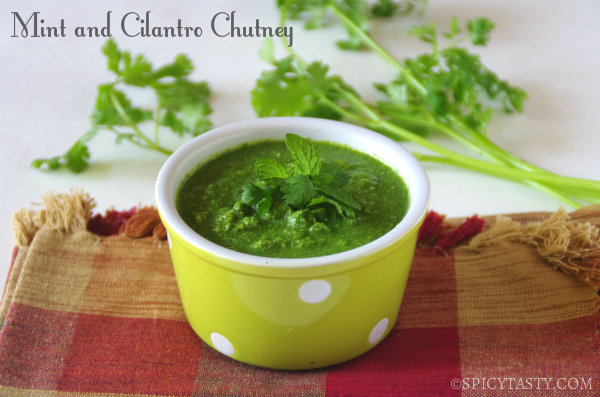 Cilantro and Mint Chutney is a most common chutney used in various cuisines. The method varies but mint and cilantro being the base for the chutney. It is so simple to make this chutney. If you have it handy in your refrigerator it saves a lot of time when you are in a hurry to whip up a tasty meal. I use it for my grilled cheese sandwich and as a condiment to fried food like samosa, pakora, bajji, for chaat and even for idli/dosa. It is one of the must have things in my refrigerator now. Try this delicious, simple and versatile chutney at home and make your life easy.
Ingredients: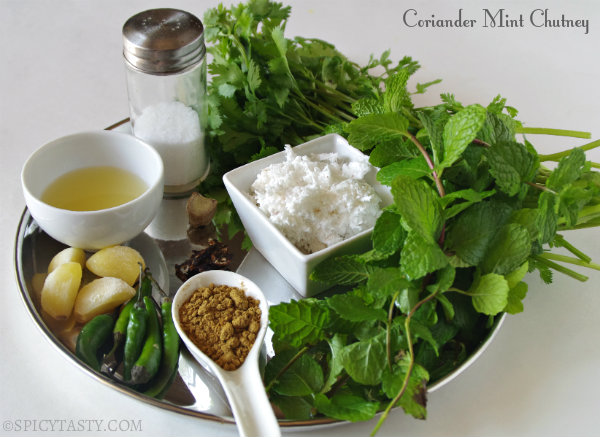 Mint leaves- 1 cup (leaves only)
Cilantro or Coriander leaves – 1 cup
Green chilies – 4
Grated ginger – 1 tsp
Garlic pods – 4
Grated coconut – 3 tbsp
Whole seedless tamarind – small pebble size
Cumin powder – 1 tsp
Lemon juice – 2 tbsp
Salt to taste
Method of preparation:
Wash mint leaves and cilantro. Remove the thick stems and use only the top portion of cilantro.
Add green chilies, chopped garlic and ginger to the mixer grinder and pulse it for 3 to 4 times until it becomes a coarse mixture.
Add the rest of the ingredients and grind it to a smooth paste adding a little water.
Green chutney is ready.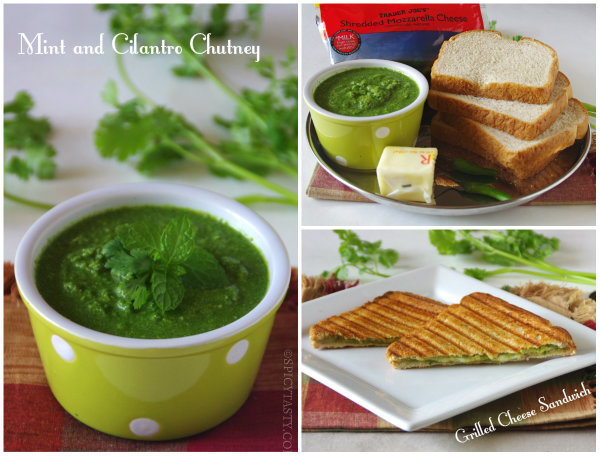 It can be used:
as a spread for bread.
as a condiment for samosa, bajji, pakora or chaat food, idli or dosa.
as a condiment for any fried or grilled food.
in grilled cheese sandwich, etc.