Onion Pakora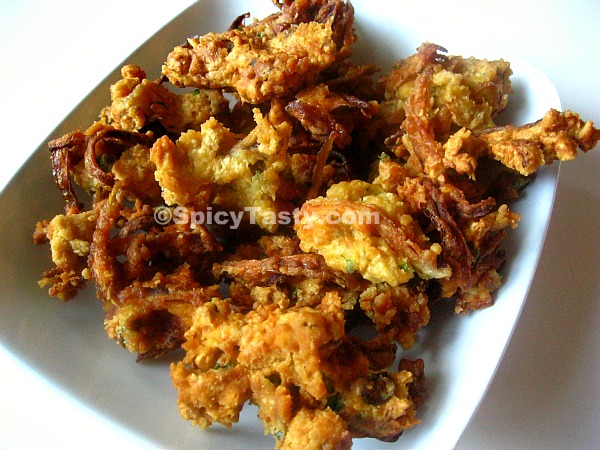 Pakora is a deep fried snack(fritters). It is made of besan (gram flour) and rice flour along with green chilies, curry leaves and spices. Different type of vegetables such as onion, eggplant, plantain, cabbage, cauliflower, chilies can be used for making pakoras. The one that I have prepared today is called pakoda in Southern India. Today I have made pakoda with onions. They are quick and simple to make and makes an excellent snack for the evening with chai. Here you go…
Preparation time: 30 minutes
No. of serving: 5 to 6
Spice level: 3 out of 5
Ingredients:
Besan or Gram flour – 1 and 1/2 cup
Rice flour – 1/4 cup
Red chili
Long green chilies – 2
Curry leaves – 7 to 8 leaves
Coriander leaves or cilantro – 1/2 cup
Sliced onion – 1/2 cup
Pinch of baking soda
Hot ghee or clarified butter – 1 tbsp
Salt to taste
Oil for frying
Method of Preparation:
Take a big bowl and add besan flour, rice flour, salt, baking soda and red chili powder. Mix well.
Add thinly sliced onions, chopped cilantro, curry leaves and green chilies. Mix well
Sprinkle some water and make a thick batter, more like a thick dough.
You should be able t crumble it in the hot oil. Set it aside.
Heat oil in a kadai or a deep and heavy bottomed container.
When oil is hot enough to fry, take a small portion of the batter and sprinkle it in the hot oil.
Turn the pakora both the sides to cook fully. When it becomes nice golden brown in color, remove them from oil.
It has to be crisp on the outside and semi soft on the inside.
Repeat the same procedure with the rest of the batter.
Serve hot. Store the rest of the pakora in an air tight container.