Ginger Chai – Hot Ginger Tea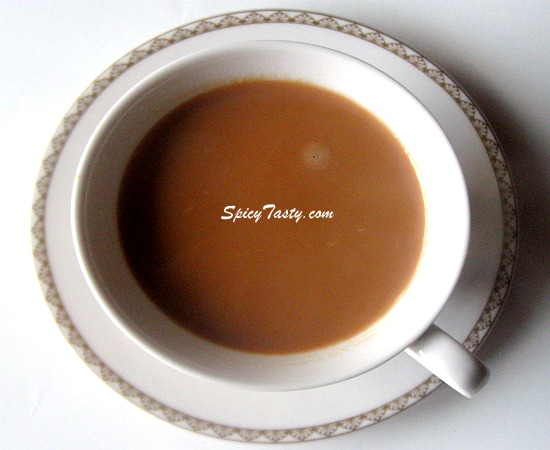 Ginger Chai or Tea is made by brewing tea along with fresh ginger. Nothing is better than a cup of chai in the evening. And I always prefer spiced chai to regular chai. I love the aroma of spices when it is blended with tea. It just freshen  up my mind and fasten my day. There are many versions of chai and today I am going to share my version of Ginger Chai. I hope you all like it. Here you go…
Preparation time: 10 mins
No. of Servings: 2
Ingredients:
Tea or chai – 2 tbsp
Crushed fresh ginger – 1 and 1/2 tbsp
2% Milk – 3/4 cup
Water – 1 cup
Sugar – 4 tsp (adjust to taste)
Method of Preparation:
I use Red Label Regular Tea. If you are using skim milk or full fat milk then add water accordingly. For skim milk use less water (say 1/2 cup). For full fat milk, add 1/2 cup of milk and the rest water. You can always change according to your taste. I like my tea to be neither thick nor watery.
Boil 1 cup of water in a sauce pan and add tea and ginger.
When it boils and extracts the essence, add milk.
When it comes to boil add sugar and mix well and let it come to a boil.
Remove from heat and filter it in a serving cup.
Tea is ready.