Pacharisi Idli (Raw Rice Idli) – Step by Step Instructions
I have already shared the recipe for the regular idli here which is made using par boiled rice. This is another version of idli called Pacharisi Idli ( or Raw Rice Idli) which is made with raw rice and urad dal. This idli is prepared during Ganesh Chaturthi and Varalakshmi Vratham.
For those who do not know about Idli, this is South Indian's staple food served with chutney and sambar (lentil soup). It is soft, fluffy with no spice. Therefore it is also perfect for kids. Wet grinder is used for grinding rice and lentils. The batter is allowed to ferment overnight or 8 to 10 hours and then used for making idlis.
Preparation time: 20 minutes + 12 hours for soaking and fermenting
Yield: 30 idlis
Ingredients:
Raw rice (pacharisi) – 2 cups
Whole urad dal – 1 cup
Methi seeds (fenugreek seeds) – 1/4 tsp
Salt to taste
Oil or can spray
Preparation of batter: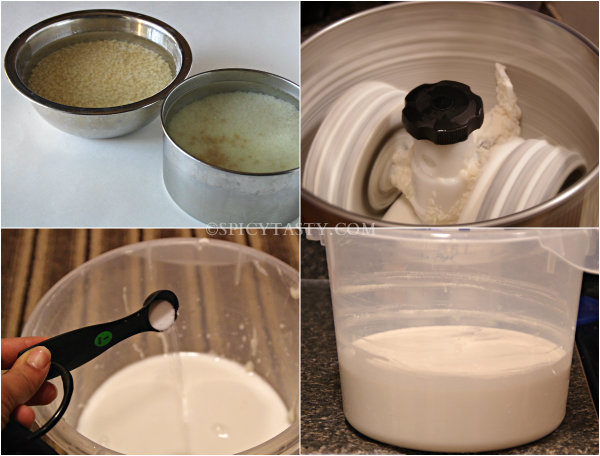 Wash and soak rice in hot water for an hour.
Wash urad dal and soak along with fenugreek seeds for an 45 minutes to one hour.
Grind soaked urad dal with some water, preferably in a wet grinder until a smooth batter is formed. Sprinkle water while grinding. Transfer it to a container.
Drain and add rice to the grinder and grind it to a slightly coarse batter adding water in between.
Transfer the batter to the same container and add a little salt. Mix well.
My mom always says it's good to use your hand for mixing the batter which promotes heat and helps in fermenting. I follow that.
Let it rest overnight or for 8 hours. Keep it in a warm place. I keep it inside my conventional oven or near the stove.
It will be risen well. Give it a gentle stir and refrigerate it in an airtight container. It stays for upto 2 weeks here. But it changes with place.
Making idlis:
Grease the idli plates with oil or can spray. Pour a ladle full of batter in each dent and line the idli plates.
Add a cup of water in the idli cooker or pressure cooker and place the idli plates and close the lid. Cook over medium flame for 12 minutes without whistle.
Remove from cooker and transfer the idlis to a hot pack. Use a flat spoon and dip it in water before scooping each idli.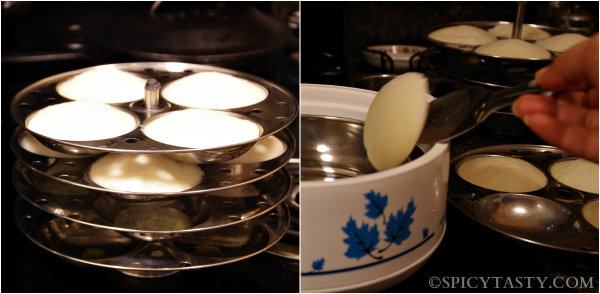 Serve idlis hot with chutney and sambar/idli podi.