Idly and Indian Hot Sauce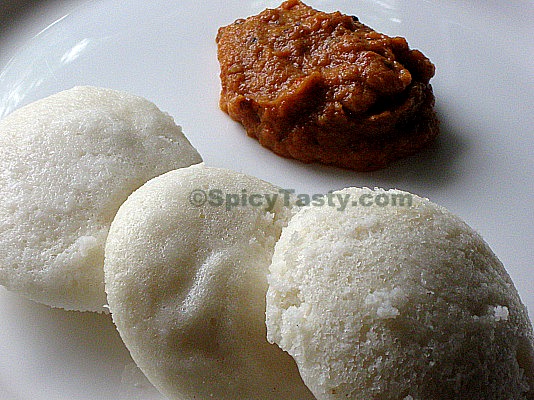 Idly is a South Indian breakfast dish made of parboiled rice and white lentils. You can find Sambar idly in any restaurant or fast food's breakfast menu. It is one of my favorite dish too.  Once I grind the idly/dosa batter, I don't have to worry about dinner for a week. Idly with Indian Hot Sauce or chutney is another favorite combination of mine. Here you go…
Ingredients for Idly:
Par-boiled rice – 4 cups (ponni or sona masoori)
Whole urad dal (white lentil) – 1 cup
Fenugreek seeds – 1 tsp
Salt to taste
Ingredients for Hot Sauce:
Medium size onion – 1
Tomatoes – 2
Garlic pods – 3
Dry red chillies or Chili pepper – 5 (adjust to taste)
Tamarind – marble size
Curry leaves – 2 tsp
Cilantro – 1 cup
Sesame oil – 1/4 cup
Mustard seeds – 1 tsp
Method of Preparation:
Idly:
Wash parboiled rice and soak for 3 hours or you can even soak it over night.
Wash urad dal and soak for an hour. soak the fenugreek seeds along with urad dal without washing. This is to retain the sticky nature of fenugreek seeds which helps in making soft idlys.
Drain urad dal and grind it finely in a wet grinder or mixer grinder. You can also use food processor.
Transfer the ground batter to a container.
Grind the soaked rice coarsely. Remove it just before it is finely ground.
Transfer it to the same container.
Add 2 tbsp of salt and mix it well till the batters blend well.
Leave it overnight or for 12 hours for fermentation process.
The batter rises well when it is fully fermented.
Now grease the idly plates with sesame oil.
Give the batter a slight stir and pour till 3/4 th of each hole of the idly plates.
Steam cook using your pressure cooker for 10 minutes or until cooked. Remove from heat.
Take a wide spoon and dip it water before scooping each idly.
Idly is ready.
You can soak idly in the

Breakfast Sambar

10 minutes before serving which is Sambar Idly.
After making idly, stir the batter well and store it in refrigerator.
The same batter can be used for making dosa.
Hot Sauce:
Heat 1 tbsp of sesame oil in a pan and add crushed garlic pods and toss for a minute.
Now add chopped onions and sauté till translucent followed by chopped tomatoes.
Keep tossing till tomatoes are fully cooked.
Remove from heat and let it cool.
Grind it to a fine paste with small marble size of tamarind and a little salt.
Heat the rest of the oil in the same pan and add mustard seeds.
Once they splutter, add curry leaves followed by the ground paste.
Allow them to cook till it becomes a thick paste or till it spits out oil.
Remove from heat and serve with idly or dosa.
FYI: You may find idly plates in your local Indian store or sometimes the shop keeper might get you one on your request.