Varalakshmi Vratham and Recipes
Varalakshmi Nombu Or Varalakshmi Vratham is a sacred ceremony observed by Hindus in the tamil month of Aadi or Sravana (Hindu Calender month) which falls between July and August. Aadi is an auspicious month and a lot of festivals and religious ceremony are observed in this month such as Aadi Perukku, Aadi ammavasai, Aadi Velli, Aadi Pooram, etc.
On the day of this Vratham, married women worship Goddess Lakshmi for the well being of their husband and family. Varatham is a Sanskrit word, meaning "Vow"  or "Promise". It denotes a religious practice or actions which includes fasting, doing pooja, reciting mantras/prayers, etc.
I am sharing a detailed procedure of the Varalakshmi Vratham rituals that we follow at home. It may vary with each household. This may be of help to the beginners or anyone who wants to know about this Vratham.
Things required:
maavilai (leaves from mango tree), nombu saradu (holy yellow thread), wooden planks, paddy, rice, toor dal, blouse bit, plantain leaf, fruits, flowers for decoration, rice flour or rice batter for kolam (rangoli), coconut, betel leaf, supari (paaku), kumkum, turmeric, pooja items, neivedhyam.
Things to keep ready on the previous day:
Clean the entire house. My mom generally avoid keeping any left over food.
Draw "rangolis" or "ezhai kolam" in your living room and pooja room. Ezhai kolam is drawn using freshly ground thin rice batter.
The idol of worship is kept in a mandapam/mandap (wooden or metal structure). If you have one, you can use it. Otherwise use a table. Decorate it with flowers and maavilai thoranam (garland made of leaves from mango tree). Place the mandapam in your pooja room.
Place a wooden plank (palagai) inside the mandapam. Draw rangoli or ezhai kolam on it and let it dry. Spread some paddy or unmilled rice and keep a whole plantain leaf on top of it. Spread some raw rice on top of the plantain leaf.
In a small silver pot or metal pot apply turmeric and kumkum, fill it with rice, a tsp of toor dal, Rs.1 coin, betel leaf, one lemon, turmeric and karugamani bangle. Place a few maavilai (mango leaf) inside and top the silver pot with a coconut rubbed with turmeric paste.
Decorate the silver idol of Goddess Lakshmi with turmeric, kumkum, flowers and chain. This silver idol is given to married women from her parents' house.
We also wear a simple cotton chain called "panju thiri malai" made with cotton balls and kumkum.
Place a blouse bit or custom tailored silk skirt over the coconut and place the decorated idol. If required tie it at the back to prevent the idol from falling. "Amman" is ready.
Place "Amman" inside the mandapam, on the plantain leaf.
Prepare another wooden plank and draw rangoli or kolam on it.
Keep another set of maavilai thoranam ready (garland made of leaves from mango tree) for the entrance door.
Things to do on Vratham:
On the day of pooja, take head bath, tie a new or washed 9 yards saree.
Decorate the entrance door with maavilai thoranam.
Choose a place in your living room and draw rangoli or kolam and place the prepared wooden plank facing east. Light a vilakku or dia.
Keep all the pooja items ready such as a plate filled with fruits, betel leaf and flowers, small bell, pancha patra udharni (a metal cup with water and spoon), etc and place it in front of the wooden plank.
Bring the "Amman" from the pooja room and place it on the wooden blank in the living room facing east.  At this time singing a devotional song in praise of the Goddess is ideal.
Perform deepa aaradhanai and aarthi for the Goddess. Again bring "Amman" back to the pooja room and place her in the mandapam.
Prepare the neivedhyam (pacharisi idli, kozhukattai, vada and paruppu payasam).
Start with Vinayagar Pooja: make a small mountain shape mold with turmeric powder and a few drops of water and place it on a betel leaf with kumkum on its head. This represents Lord Vinayak or Ganesh. Chant the Vinayakar slokam.
Perform the Lakshmi Pooja (reading Lakshmi Ashtothram).
Place the yellow thread (nombu saradu) on a plate with betel leaf, fruits and flowers. Tie a small flower in middle of the "nombu saradu".
After performing the "nombu saradu pooja" tie the yellow thread (nombu saradu) first to the "Amman" and then to the elderly person in your house and then to the others. The elder woman will tie the thread to you. If you are the only one at home then you can tie the thread to the "Amman" and then to yourself. Tie it in your right hand.
Finally perform deepa aaradhanai and neivedhyam of the prepared food.
In the evening you can invite your friends and give them thamboolam (a tradition of giving betel leaf, turmeric, blouse bit or gifts).
Next day, early in the morning punar pooja is performed (before raagukalam) and milk with sugar candy (kalkandu) is offered as neivedhyam. In the evening Sundal is prepared for neivedhyam followed by aarthi. Before you sleep, the "Amman" (the idol and the pot) is kept inside the rice barrel or the container in which you store your rice. A small dia or deepam is lit in front of it along with sugar candy and milk neivedhyam. Next day you can remove the Amman from the rice barrel and use the coconut later on. For all the slokams and mantrams of this Vratham, there are books and DVDs available in stores and online.
Here are a few recipes to prepare on the day of Varalakshmi Vratham.
Pachirisi Idli (Raw Rice Idli):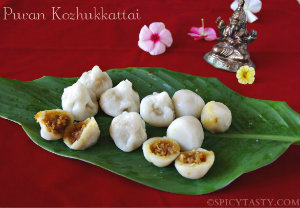 Uppu Kozhukattai (Spicy version):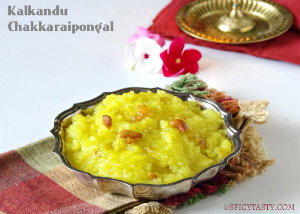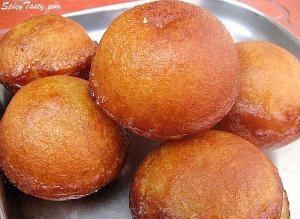 Other Recipes for Lunch: