Diwali Snack Thenkuzhal Murukku (Chakali)
Thenkuzhal Murukku is a popular snack usually made during the popular Indian festival of  Diwali. This is one of the most popular savory snacks in southern part of India. There are lot of types of murukku (chakali) – kai murukku, thenkuzhal murukku, meti murukku, mullu murukku and ribbon murukku.
And this one is my all time favorite snack. This diwali is bit special for me, because of my 7 months old little one. It's his first Diwali! My mother-in-law made this murukku. The holiday fun starts now. So more diwali recipes are on the way to SpicyTasty.
Ingredients:
Rice Flour : 2 cups (sifted)
Urda dal flour : 1/4 cup
Split chick peas : 2 tbsp
Butter : 1/2 stick or 3 tbsp (room temperature)
Asafoetida : 1/4 tsp
Sesamae seeds : 1 tsp (you can use cumin seeds instead of that too)
Salt : required to taste
Water : required to make the dough
You can either buy urad dal flour from store (Indian Grocery stores for those in US) or you can just dry roast the urad dal until it turns light brown color and grind it into a smooth powder.
In a wide bowl add the rice flour, urda dal flour, sesame seeds, split chick peas,  asafoetida and salt.
Add the butter and water little by little and knead well to make a smooth dough. The consistency should be neither too tight nor too loose.
Now you need a Muruku mould to make this. There are different attachments comes with a murukku maker (just like the food processor attachment). I've used the three-hole attachment to make this murukku.
Now take a small amount of dough and put it in the maker and close the maker.
Take a plate or a ziploc bag greased with some oil brushed on it.
Start pressing the mould and slowly rotate the maker into a circular motion to get the shape like in the picture.
Now heat oil in a pan when its hot enough to deep fry it add the murukku one by one (just drop the murukku gently into the oil).
Deep fry until it becomes  golden brown and remove from heat.
Let it cool for few minutes and store it in an air tight container.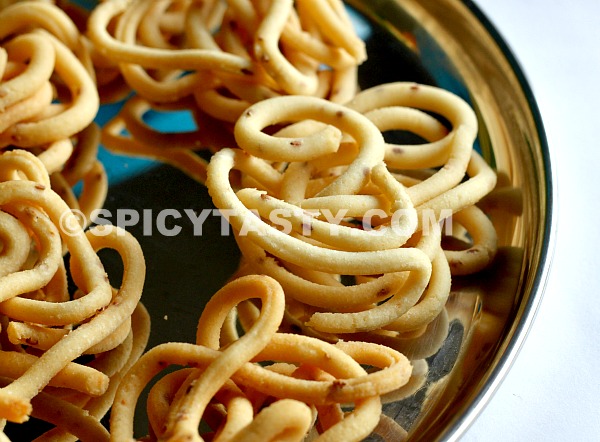 Stay tuned and share with us all the snacks & sweets you are making in the comments.