Happy Vinayagar Chaturthi and Ellu Urundai(Sesame Ladoos)


Happy Vinayagar Chaturthi 2012 !!!
Ganesha Chaturthi, also known as Vinayaka Chaturthi is the Hindu festival of Ganesha, the elephant-headed son of Shiva and Parvati, who is believed to bestow his presence on earth for all his devotees in the duration of this festival. It is the birthday of Lord Ganesha who is widely worshipped as the god of wisdom, prosperity and good fortune. The festival is observed in the Hindu calendar month of Bhaadrapada, starting on the shukla chaturthi (fourth day of the waxing moon period). The date usually falls between 20 August and 15 September. The festival lasts for 10 days, ending on Anant Chaturdashi (fourteenth day of the waxing moon period). While celebrated all over India, it is most elaborate in Maharashtra, Goa, Gujarat, Orissa, Karnataka, Tamil Nadu and Andhra Pradesh. Outside India, it is celebrated widely in Nepal and by Hindus in the United States and Fiji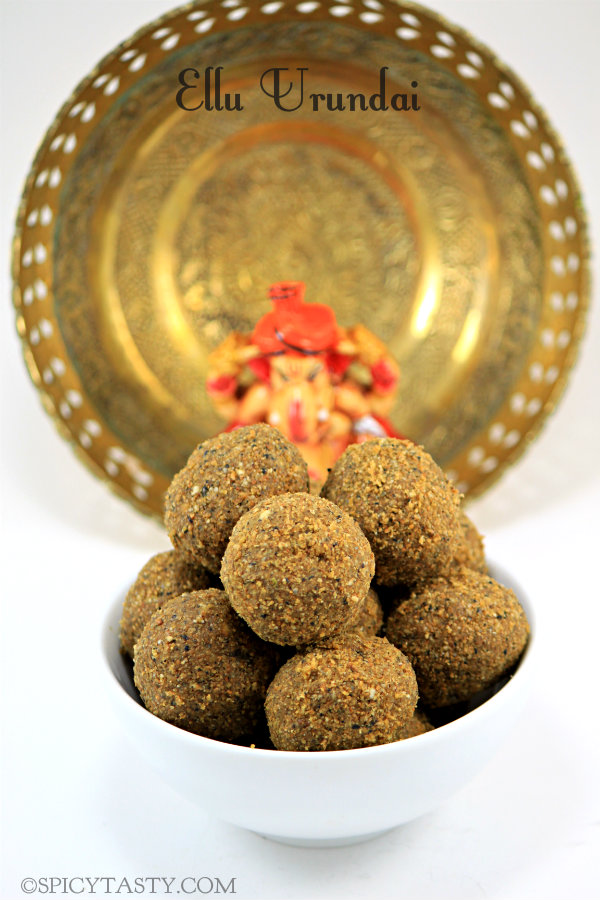 This year apart from Puran Kozhukattai and Sundal I tried Ellu Urundai for Vinayagar Chaturthi. This has been the easiest of the sweets to be prepared for Neivedhyam to Vinayaka. Here is the step by step instructions for the Ellu Urundai.
Ingredients:
Ellu/Sesamae seeds(black or white) : 1 cup
Jaggery : 3/4cup
Cardamom  : 1-2
Cashew nuts : 5-6( roast in ghee and crushed it into pieces)
Ghee : 1tbsp
Dry roast the Sesame seeds till nice aroma comes and it turns browned. Make sure it's not turned dark otherwise it will taste bitter.  Be careful when you roast it starts crackle.
Remove this from heat and let it cool.
After that grind the sesame seeds into coarse powder.
Now add the crushed jaggery and cardamom  into the above mixture and pulse it for couple of times it until it's well mixed.
Now heat ghee in a pan and add cashews, roast them and crush them into pieces.
Add the cashew pieces into the above mixture.
Now roll tight balls using your hand out of the mixture.