Stuffed Chilli Bhajji – Stuffed Chilli Fritters
Every food will have a special place in our life and will have some special memories attached to them. One such food for me is chilli bajji and it will always remind me of my college days. It will remind me of those rainy days when we would get chilli bajji's at chidambaram carnival (thiruvizha). It reminds of those college days when we'd skip class and go to eat Chilli bajjis. They used to serve the bajji's with a chutney and I am still looking for that perfect recipe for it. If you know it, please share it here and I will be really grateful!
Ingredients:
For batter :
Gram Flour : 1 cup
Rice flour : 1/2 cup
Baking powder : 1/4 tsp
Cumin powder : 1/4 tsp
Salt : required to taste
Red chili powder : 1 tsp
water : 1 1/2 cup
Filling I :
I got the idea for this filling from this wonderful recipe by Mahanadi .
Channa dal : 1/2 cup
Coconut Powder : 1tbsp
Cumin seeds : 1 tsp
Urad dal : 1 tsp
whole raosted peanuts : 1/2 tbsp (optional)
Filling II :
Potato : 1 (Medium) (boiled and mashed)
Coriander leaves : 3 tbsp
Curry Leaves : 4 to 5
Fennel seeds : 1/2 tsp
Mustard seeds : 2tsp
Cumin seeds : 1 tsp
Whole roasted peanuts : 1 tbsp(optional)
Oil : 1 tbsp
Tamarind juice : 2 tbsp
Method Of Preparation :
Slit the green chilies lengthwise and remove all the seeds from them .
Soak the chilies in boiling water and salt for 5 minutes.
Mix all the ingredients for bajji batter with water to make a thin paste and keep it aside (the consistency should be loose paste not too thick).
Preparing Filling II: Heat oil in a pan. Add mustard seeds, urad dal, cumin seeds, and fennel seeds and when its sputter add the mashed potatoes, curry leaves, coriander leaves, salt and mix it well. Now add a tbsp of tamarind juice in the end and mix it well. Sprinkle some roasted peanuts. Remove from heat.
Preparing Filling I : Grind all the ingredients expect peanut into a fine powder. Keep it aside.
Stuff the green chilies with these fillings separately in each one of the slit chilies. Add a 2 tsp of tamarind juice at the end of each stuffing in each green chilies. So it will give this sour taste .
I kind of tried stuffing both the fillings in the same green chilies with a tsp of tamarind juice at the end. It actually came out very good and tasted really good too.
Now dip the stuffed green chilies in the prepared batter and deep fry it in oil.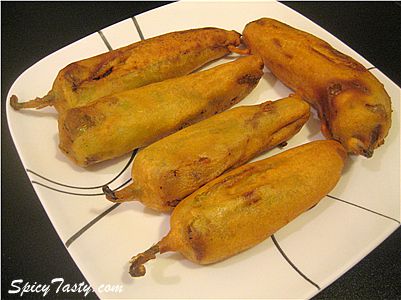 Serve it hot with your favorite chutneys 🙂