Sweet Potato Fries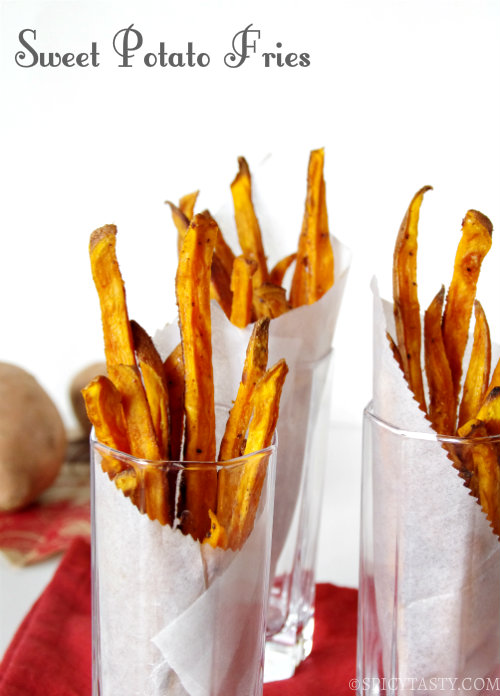 These are oven baked Sweet Potato Fries with bursting flavors of sweet, spice and salt. They are very easy to make and healthy when compared to fried potatoes (French Fries). I wasn't so sure how it would taste until I tried them because fries with sweet potatoes?? But then I was wrong. I really like them. My husband is also a huge fan of these fries because of the Home Fries from Pappy's, a popular BBQ place in Saint Louis.
For crispy fries you can add more oil. I have used olive oil but any cooking oil will work. Enjoy your homemade fries and let me know your comments.
Ingredients:
Sweet potatoes – 2
Corn starch – 4 tsp
Garlic powder – 1/2 tsp
Ground black pepper – 1/4 tsp
Cumin powder – 1/4 tsp
Paprika powder – 1/2 tsp
Chili powder or cayenne pepper powder – 1/2 tsp
Kosher salt – 1 tsp
Olive oil – 4 tbsp
Vinegar – 2 tbsp
Method of preparation:
Preheat oven to 400ºF.
Wash sweet potatoes and cut it into thin long slices. You can peel the skin if you want to.
Mix all the ingredients except olive oil and vinegar in a bowl and throw it in a zip lock bag or a plastic bag.
Add the potato slices to the bag and shake it well so that potatoes are well coated with the spices.
Transfer the spiced potato slices to a big bowl and add olive oil and vinegar. Shake well to coat it with oil. Use your hands to mix well. You can add more oil if you want.
Line a baking sheet with aluminum foil and spread the potatoes leaving enough space between the slices. For crispy fries add less number of fries in your pan.
Place it in the middle rack and bake for 15 minutes and flip them over and bake for another 20 minutes or until it becomes crispy.
You can also deep fry the potatoes in vegetable oil or any oil instead of baking.
Serve it with a dipping sauce such as mayo or ranch sauce.