Sweet Somas
If you want to get into the Diwali celebration mood there is one sweet that will get you there right away- Sweet Somas. This is one of the most favorite Diwali snack my mom used to make when I was growing up. And I still hold it dear to my heart.
If you like coconut and fried snacks this is just the ultimate combination of the two. It is basically a deep fried shell with sweetened coconut and sooji filling that tastes heavenly.
Wishing everyone a Happy and safe Diwali!!!
Preparation Time: 60 minutes
No Of Somas: 18-20
Ingredients:
Maida(All Purpose Flour) : 2 cups
Oil : 1 tbsp
Salt : a pinch
Water : To knead the dough
For Filling:
Rawa : 1 cup(Lightly roasted in ghee)
Sugar : 1 cup (
Cardamom Powder : 2 tsp
Shredded Coconut : 1 cup (Roasted in ghee)
Cashews : 15 (Roasted in ghee and grind them into coarse powder)
Pista : 3 tbsp (Grind them into coarse powder)
Raisins(Dry grapes): 4 tbsp (roasted in ghee and chop them into pieces)
Method Of Preparation:
Heat a tbsp of ghee in a pan and roast cashews, raisins and Pista separately. Grind the nuts separately into Keep them aside.
Also roast the shredded coconut(roast them till it becomes dry and nice aroma starts to come) and rawa separately in a tbsp of ghee.and keep them aside.
Powder the granulated sugar. Just don't grind them into smooth powder, make sure it is little coarse.
Also just pulse the rawa, cashews, pista separately and keep them aside.
In a wide bowl mix all the ingredients mentioned above and keep it in a airtight container.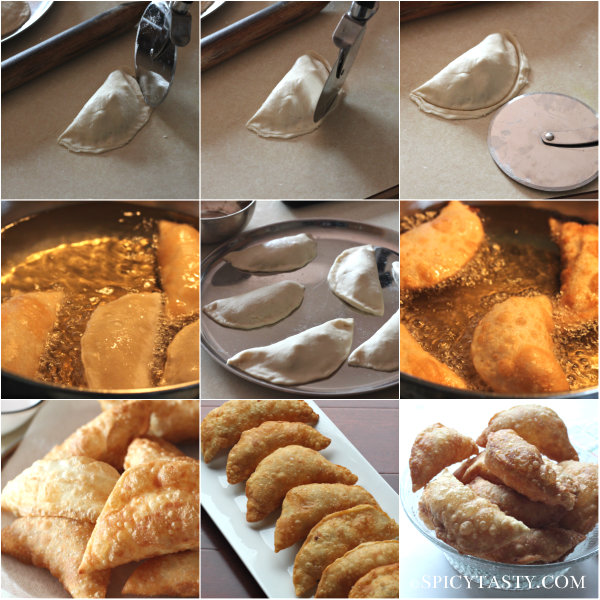 Preparing samosa:
Now prepare the dough by mixing maida, salt and water. Knead the dough until it becomes smooth.
Divide them into 16-18 balls and roll them into thin circular shape pooris as shown in pic.
Now place a spoon or 1 1/2 spoon of Filling powder in the center of the pooris and apply little water on the edges of one side of the poori.
Gently fold the poori and press the corners and seal the side as well as shown in picture.
Now use a somas cutter or knife or any other cutter to trim the edges. Make sure you trim the area where it is sealed other wise it will open up while frying.
 Heat oil in a wide pan and deep fry the somas until it becomes golden brown. deep fry it in medium heat by turning both sides.
Repeat the process for all the balls and after deep frying it in let it cool for an 30 minutes and start storing it in a airtight container.
Somas can last up to 1 month if it's stored in an airtight container.