Adhirasam – A Traditional Indian Sweet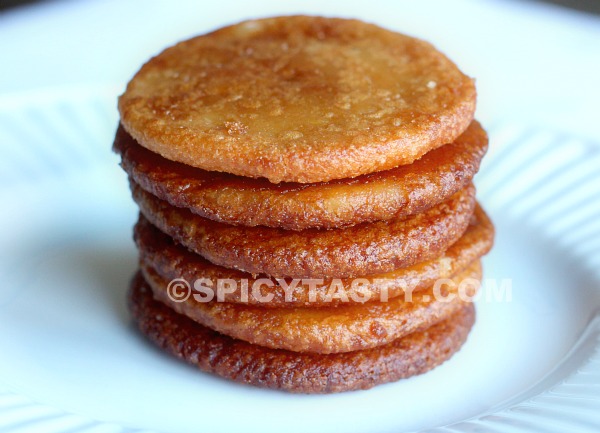 Adhirasam is a traditional South Indian Sweet which is usually made in Diwali times. It's very popular sweet which is almost made in every single south Indian home during diwali festival. And adhirasam is popular as an offering to God for Diwali nonmbhu (prayer) time.
It's really very tricky to make adhirasam, because you need to know the correct proportions. My mother-in-law showed me how to make this recipe. It came out really well.
From wikipedia:
Adhirasam  is a type of Indian sweet from Tamil cuisine. The doughnut like pastry has a long history of popularity in Tamil civilization. They are similar in shape to vadai, but are not savoury and are eaten as a dessert.

Adhirasam is a popular as an offering to the gods during puja prayers, both at home and in temples in Tamil Nadu.  According to inscriptions from Krishnadevaraya's time, the sweet was made from rice flour, jaggery, butter and pepper.  At the annual festival at the Panchavarnesvar Temple in Nallur (located near Kumbakonam, Tamil Nadu), an offering of 6000 Adhirasams along with 6000 vadas is made to the Gods; the entire lot is cooked in the temple kitchen between sunrise and 11 pm, for the prayers that take place at midnight.
Ingredients:
Raw Rice: 2 cups
Jaggery : 1 cup (powdered)
Water : 1/2 cup
Cardamom Powder : 1 tsp
Ghee : 1 tsp
Oil for Frying
Method Of Preparation:
Soak the raw rice for 40 minutes. After that drain the rice and spread it in a clean cloth or a tissue for about 10- 15 minutes.
Once you know the rice is dry ( not too dry but with little moist) and the excess water content is absorbed from the rice then it's ready to grind.
Now grind the rice using a blender or an Indian Mixie  to a very fine powder.
Now sift this rice mixture and keep it aside.
In a wide pan add jaggery and 1/2 cup of water.  Once the jaggery powder is dissolved completely, remove from heat and strain the water. Keep it aside.
Now boil that jaggery and keep stirring it in til it comes to a thick consistency.
To check the right consistency if you take that melted jaggery and put in to a little water, it should roll up into a soft ball.
Once you get the right consistency just remove from heat immediately and pour it into the rice mixture. And also add the cardamom powder.
Mix everything together to form a soft dough.
You can put this dough in an air tight container and keep it in the fridge and make adhirasam out of it even after two  or three weeks later.
Now make the flat patties out of that mixture. deep fry that patties.
Make sure to fry it in low heat.