Chicken Chettinad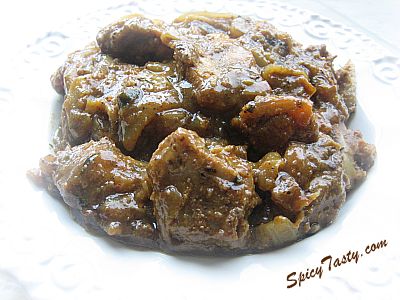 Chicken Chettinad is another authentic south Indian dish. Chettinad is a very special and popular style of cooking in Tamilnadu. They are known for a variety of dishes and Chettinad Chicken has to be the king of them. You'll find this listed in almost every South Indian restaurant menu . The chicken is cooked with some distinct ingredients such as poppy seeds , fennel seeds, coriander seeds that give a very special aroma to the curry. Chettinad is known for its culinary delicacies. Chettinad food, now is one of the many reasons why people get to know Chettinad.

Ingredients:
Chicken :800gm (with bone)
onion: 1 1/2 (medium) (finely chopped)
Tomatoes : 2 (finely chopped)
Oil : 2 tbps
Salt : required to tatse
water : 1 1/2 cups
Turmeric Powder : 1/4 tsp
Curry leaves : 4 to 6
Lemon juice : 1tsp
For Masala Paste:
Coriander seeds: 1 tsp
Cumin seeds : 1tsp
Fennel seeds : 1tsp
Poppy seeds : 1 1/2 tsp
Whole red chilies : 6 to 8
Coconut : 4 tbsp (grated)
Cinnamon : 1″
Cloves and cardamom : 2 each
Ginger and garlic : 2 tsp (finely chopped)
Method of Preparation :
Roast all the ingredients in a little oil except ginger and garlic. Let it cool for few seconds.
Grind them all together with ginger and garlic. Grind it in to a smooth paste.
Heat oil in a vessel and add bay leaves and onions fry them till onions turn in to golden brown.
After that add the ground masala paste, curry leaves, turmeric powder and fry them for like 5 minutes and then add the chicken in to it.
Mix it all together so the masala blend with chicken and cook them for 3 to 4 minutes in medium heat.
Now add the tomatoes and required salt.
Close the lid and let it cook for 3 minutes in medium heat.
After that add 1 1/2 cups of water into it and close the lid .
Boil the gravy for like 8 minutes in medium heat or till the oil separates in the top.
Finally add the lemon juice on top of it and garnish with coriander leaves.
Serve it hot with chapathi, dosa and rice. 🙂