BBQ Chicken Pizza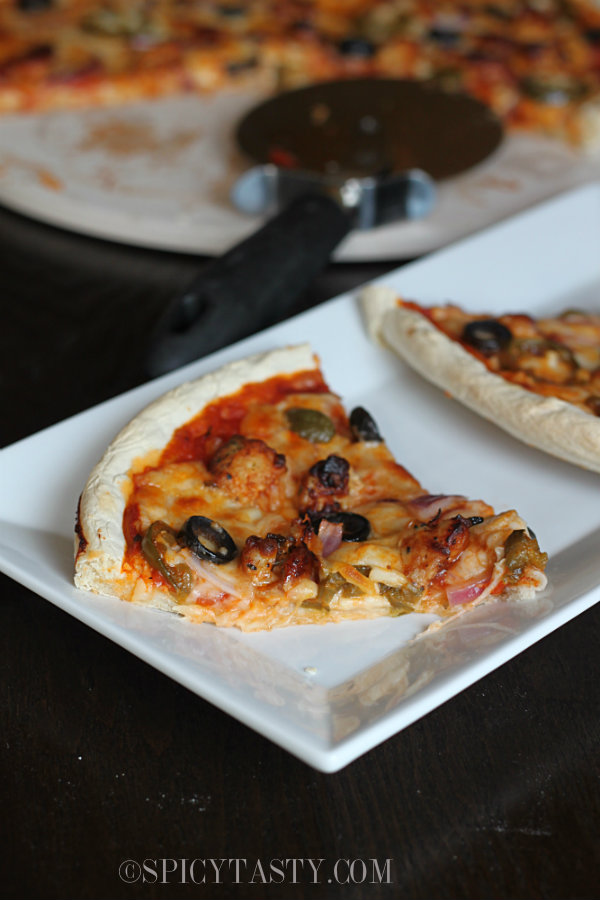 Karthik & I are great fans of pizza and love various kinds of pizza. Chicago style, new york style, deep dish, hand tossed, greek gyro pizza, etc. One of our favorites has to be Barbeque chicken pizza. I have made a few varieties of pizza but this is the first time I made barbeque chicken pizza and it came out delicious.
If you are a fan of barbeque flavor, this is a must try.
Preparation Time : 45 minutes
No Of servings : 3-4
Chicken breast : 1/2 pound (washed and cut into cubes)
Barbecue sauce :  1/4 cup
Flour : for dusting
Pizza dough
Pizza sauce : 1/2 cup
Mozeralla shredded : 11/2 cup
Parmesan shredded : 1 cup
Onions : 1/2 cup (thinly sliced)
Olives: 1/4 cup
Jalapenos : 1/4 cup
Olive oil : 2 tbsp
Method of Preparation:
Preheat the oven into 400 c.
Heat oil in a pan and add the chicken pieces and sauté  until it becomes golden brown. when you saute you can add any seasonings you want or you can just saute it with salt and peper.
After that remove from heat and let it cool.
Now add 2 tbsp of  BBQ sauce in to the cooked chicken and mix it gently, keep it aside.
 If you are using a pizza stone, let it preheat in the oven as per instructions.
 Roll out dough on a floured surface and place it on a greased  sheet pan or on pizza peel as shown in pic.
Now brush olive oil on top of the dough and place pizza sauce follow it by the parmesan and mozzarella cheese.
For BBQ pizza I've sued onions, olives, jalapeno's and BBQ Chicken as toppings. So arrange it like you want and you can use any of your favorite toppings.
Slide the pizza onto the pre-heated pizza stone and bake for 20-30 minutes.
If not using a pizza stone- place dough on a large greased baking sheet and apply toppings. Bake as above.
Check the pizza and if you see the cheese starts to bubbles it's ready to take out of the oven.
Serve it hot.