Mexican Gumbo (Vegetarian)
Mexican Vegetarian Gumbo is my all time favorite dish from Qdoba, a fast food restaurant serving Mexican cuisine. Other than rice, beans, soup and salsa, I usually load it up with all the vegetables they have such as corn, tomatoes, some lettuce and green peppers. I haven't mentioned it in the recipe. But you can add your favorite grilled or fresh vegetables to your Gumbo and enjoy. Like the restaurant, I have prepared the required ingredients separately and mixed it together to make Gumbo. I am planning on making One Pot Gumbo. Will share the recipe soon. Though it is a bit time consuming to prepare everything separately, it is totally worth it. Try and let me know how you like it.
Ingredients:
Tortilla Soup – 4 cups
Cilantro rice – 2 cups
Black or pinto beans – 2 to 3 cups
Hot salsa – 1/2 cup
Light or fat free sour cream – 4 oz
Fat free Mexican cheese blend – 1 cup (optional)
Tortilla strips
Preparation of Tortilla Strips:
Cut 2 corn tortillas into thin strips of 2″ length. Spread it in a baking sheet and spray some oil or can spray and toss it well. Bake for 5 to 6 minutes at 400ºF (205ºc). You can also deep fry the tortilla strips in oil.
Ingredients for Cilantro Rice:
Cooked brown or white rice – 2 cups
Oil – 1 tsp
Lime juice from one small lime
Chopped cilantro – 1/2 cup
Garlic clove – 1
Salt to taste
Preparation:
Cook a cup brown rice or white in water or vegetable broth. Vegetable broth gives a nice flavor to rice.
Heat oil in a pan and add finely chopped garlic and mix rice in it.
Add chopped cilantro, lime juice and a little salt. Mix well and transfer it to a bowl.
Ingredients for Black Beans:
Black or pinto beans – 2 can (can substitute with black beans, soaked and cooked)
Oil – 1 tsp
Chopped red onions – 1/4 cup
Vegetable broth – 1 cup
Cumin powder – 1 tsp
Lime juice – 1 tbsp
Salt to taste
Preparation: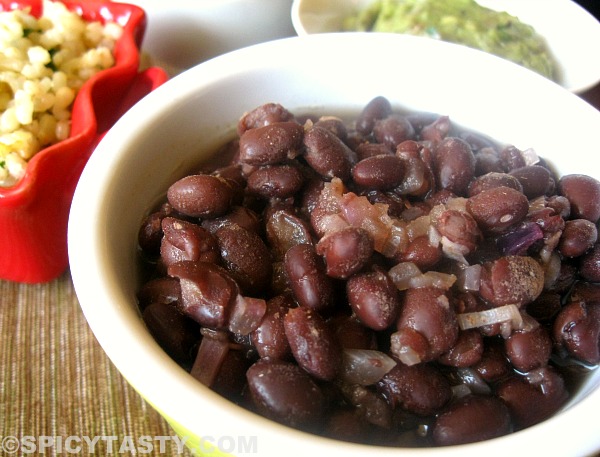 Heat oil in a sauce pan and saute onions with a tsp of oil.
Drain and wash black beans and add it to a sauce pan along with vegetable broth over medium heat.
When it starts boiling, add cumin powder, lime juice and a little salt.
Cook for 2 minutes and turn off heat.
Ingredients for Hot Salsa:
Tomatoes – 2
Chopped red onions – 3 tbsp
Chopped bell peppers – 2 tbsp
Jalapeno pepper – 1 1/2 (seeded and finely chopped)
A hand full of cilantro (chopped)
Garlic cloves – 1
Fresh lime juice – 1 tbsp
Chili powder – 1/4 tsp
Finely chopped scallions (spring onions) – 1 tbsp
Olive oil – 1 tsp
Salt to taste
Preparation: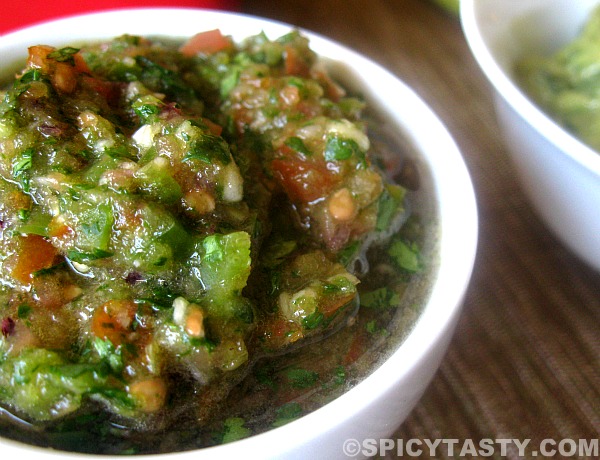 Finely chop all the vegetables and mix it in a bowl with lime juice, oil , chili powder and salt. Pulse it in the mixer grinder for a couple of times. Refrigerate it for 2 hours or over night.
Preparation of Mexican Gumbo:
Take four serving bowls and add 1/2 to 3/4 cup of rice and beans followed by a cup of tortilla soup.
Add 2 tbsp of hot salsa and a dollop of guacamole, cheese and sour cream.
Top it with a few crunchy tortilla chips. Serve hot.
Each layer is flavorful and when you mix everything together, it will be wonderful.
Enjoy your homemade Gumbo.