Bottle Gourd Koottu – Bottle Gourd Curry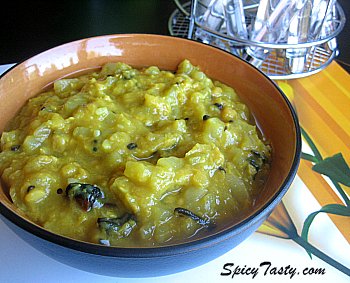 This yet another recipe from my mother inlaw's kitchen. I have never tried bottle gourd before and didn't know it was so easy to cook. It's very healthy and makes for a tasty side dish for chapathies and rice. Besides its healthy properties, there is a little known fun fact about this vegetable. Its dried and cored skin is used to make traditional musical instruments like Tambura and Veena. 🙂
I am sending this recipe to Pooja of My Creative ideas who is hosting   "Vegetable of the Week " – Bottle gourd Event
And I am submitting this recipe to Srivalli of Cooking 4 all seasons Who is hosting Curry Mela Event.
Thanks for reminding me srivalli.

Ingredients:
Bottle Gourd : 1 no
Channa dal : 1/4 cup
Onion : 1/2
Tomato : 1
Water : 3/4 cup
For Seasoning :
Oil : 2 tbsp
Mustard seeds : 1tsp
Whole Red Chili : 2
Curry Leaves : 4
Method Of Preparation :
Soak the channa dal for 15 minutes and after that pressure cook it with onion, tomato, 1/2 cup of water and a little salt for four whistles.
After that remove it from heat and add the peeled and chopped Bottle Gourd into the above mixture and again pressure cook it for one whistle in medium heat.
Then open the lid and let it simmer in  medium heat .
Heat oil in a pan and add the seasonings. After the seeds sputter, put this seasonings in the above bottle gourd mixture.
Boil the mixture till it becomes thick in consistency or until the water goes off and then remove from heat.
Serve this bottle gourd koottu hot with Aapam, rice or chapathi. 🙂
Note :
If you are out of tomatoes and onions you can just do all the steps as mentioned above but add a spoon tamarind juice at the last boiling step.