Fried Oat Balls (from left over pongal)
I had some left over Oats Pongal that I made for the weekend and we were bored of eating the same thing again for dinner but at the same time I also wanted to finish it. That is when I came up with the idea of making this dish. It is more like Risotto balls which are made using left over Risotto.
You can dip these balls in tomato chutney or any spicy chutney. But I had some sour cream and I mixed it with hot sauce and served as a dip which was delicious. Try to finish the balls when it is hot.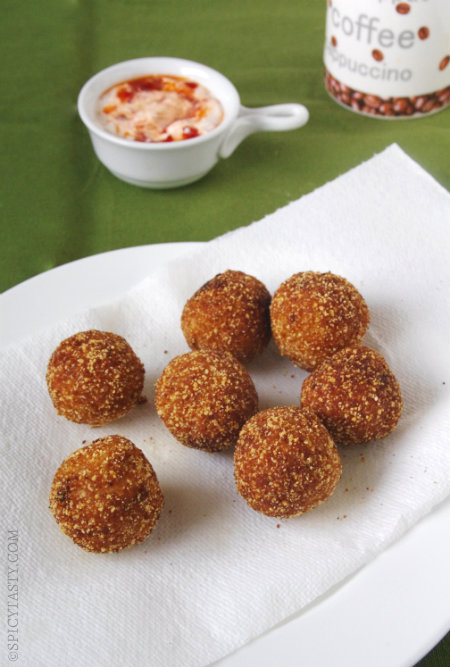 Ingredients:
Left over Oats Pongal – 2 cups
Maida or all purpose flour – 1/3 cup
Ground black pepper – 1/8 tsp
Chili powder – 1/4 tsp
Salt to taste
Bread crumbs – 1 cup
Oil for frying
Dip:
Sour cream – 1/4 cup or 4 tbsp
Chili garlic sauce or Sriracha sauce – 1 tbsp
Method of Preparation:

In a small bowl combine flour, salt, pepper and chili powder. Add water little at a time and make a batter. The batter should neither be thick nor thin.
Make small balls from the left over pongal. Dip the balls one by one in the batter.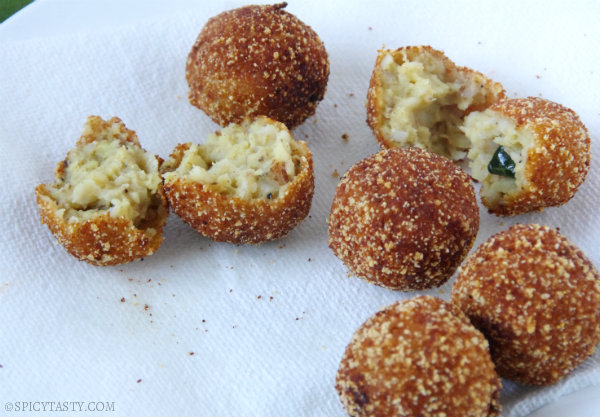 Then roll it on the bread crumbs. Heat oil and fry these balls in 4 to 5 batches.