Idly Batter Bonda (Easy Bonda Recipe)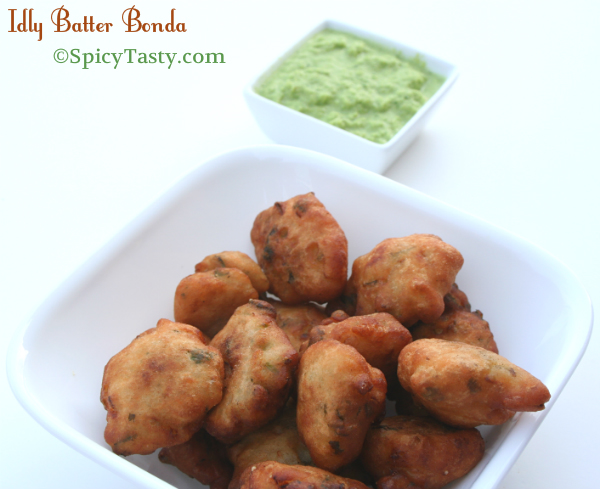 Today I wanted to make some simple snack for my husband. Suddenly I remembered my leftover batter sitting in the fridge. My mom used to make these Bondas for snack. This is very easy to prepare and it will be really tasty with coconut chutney.
Time of Preparation : 15 minutes
Spice level : 3 out of 5
No of Servings : 3 to 4
Ingredients:
Idly Batter – 2 cups
All Purpose Flour – 1/4 cup
Rice Flour – 2 tbsp
Green Chillies – 4 (finely chopped)
Coriander leaves – 1/4 cup (finely chopped)
Onions – 1/2 cup (finely chopped)
Curry leaves – a few
Salt – to taste
Oil – For frying
Mix all the ingredients together except oil and mix it without any lumps.
The batter should be slightly thicker than idly batter and it should fall freely.
Heat the oil and when the oil becomes hot, take a small round headed ladle and drop the batter in the oil.
Turn both sides and fry them like how we fry for vadas.
Remove them from the oil when the bondas become golden brown.
Keep them in a tissue paper to remove the excess oil.
Serve hot with coconut chutney.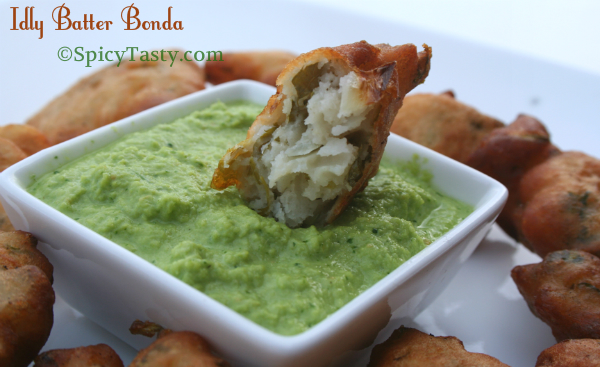 Note:
Batter can be fresh or very old batter is also fine for these bondas.
We can give variation by adding ginger or besan or whatever we want.