Potato wedges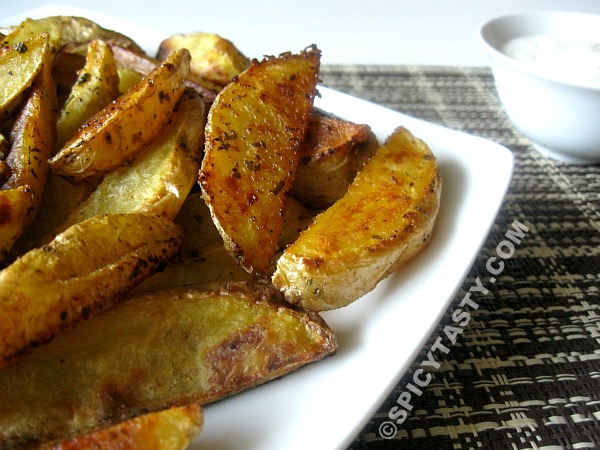 Potato Wedges are easy to make and it is a wonderful appetizer for any parties. I made these for the Superbowl Party and it was a hit. I am a huge fan of Buffalo Wild Wings' Potato Wedges with the buffalo sauce. That's the inspiration for making this dish. All you need is potatoes and some regular ingredients from your pantry. Throw everything together and bake. It is as easy as you think. Wedges are ready. I have also given a recipe for a quick dip for the wedges. Check it out.
Preparation time: 60 minutes
No. of servings: 6 to 7
Spice level: 3 out of 5
Ingredients:
Medium size potatoes – 8
Butter – 2 tbsp (melted)
Extra Virgin Olive Oil or Regular Olive Oil – 1/4 cup
Chili powder – 1/2 tsp
Garlic powder- 1 tsp
Fresh finely chopped rosemary – 1 tsp
Dried parsley – 1/2 tsp (or fresh  parsley – 1 tsp)
Ground pepper powder – 1/2 tsp
Salt – 3/4 tsp (adjust to taste)
Cumin powder – 1/4 tsp
White vinegar – 2 tsp
Method of Preparation: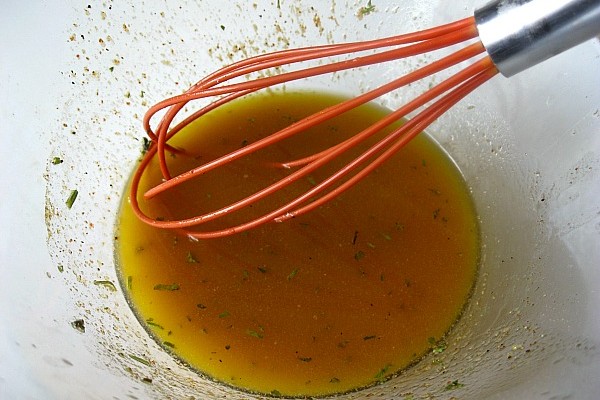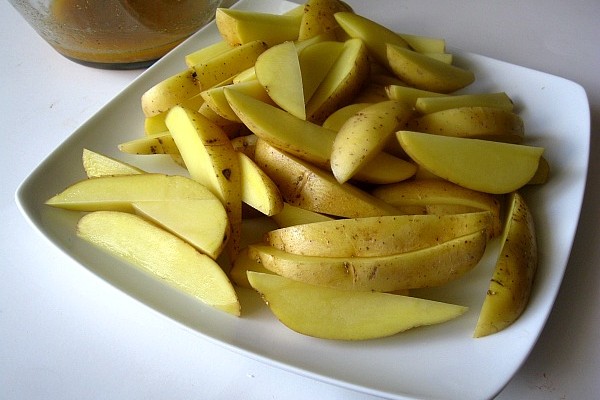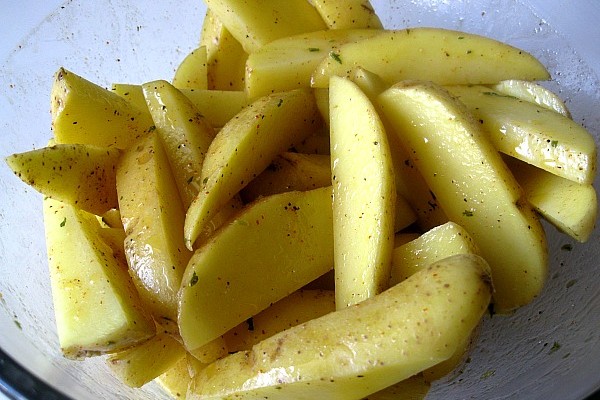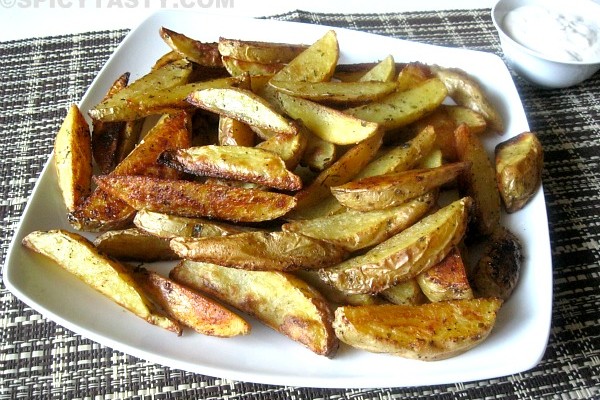 Preheat oven to 400ºF.
Soak and wash potatoes well without any dirt since we are going to bake the potatoes with skin.
In a big bowl combine all the ingredients excepts potatoes and whisk it well.
Cut potatoes into half lengthwise and then the half into three or four pieces lengthwise.
Add the cut potatoes to the bowl and combine everything with clean hands so that every piece of potato is coated well with all the ingredients.
Spread it in a baking sheet or tray and bake for half an hour and then increase the temperature to 425ºF and bake for another 20 minutes or until the edges are brown and potatoes are golden brown and fully cooked.
Turn the baking sheet in between and check for every 15 or 20 minutes.
Nice crisp golden brown wedges are ready for the party.
Quick dip for the wedges:

          Mix together 1/4 cup of spicy mayonnaise, 1/4 cup of buttermilk ranch and some finely chopped jalapenos or pickled jalapenos.  Yummy dip is ready.