Kai Murukku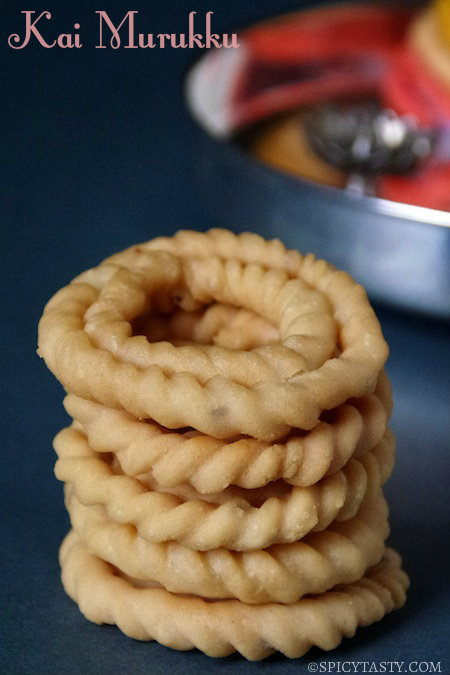 Kai Murukku is a traditional South Indian snack made for festivals and special occasions.  It is made with freshly ground wet rice flour and deep fried in oil. Kai means hand in Tamil.
It is a tradition in Hindu Brahmin weddings to make this murukku in jumbo sizes and various shapes. For snacking we generally make murukku with two circles. For special occasions like wedding bigger murukku is made with 7 or 9 circles and we call it "Seer Murukku". My mom is a pro in making these Seer Muruku and she always takes care of these in our family weddings. I will be posting a video of this making very soon.
Preparation time: 90 minutes
Yield: 15 to 20 two circle murukku
Ingredients:
Rice flour – 3 cups
Urad flour – 2 tbsp
Butter – 2 tbsp (room temperature)
Cumin seeds – 1 tsp
Salt – 1/2 tsp (adjust to taste)
Method of Preparation:
We use freshly ground rice flour for making this murukku. See recipe below.
In a big bowl add rice flour, urad flour, cumin seeds, salt and mix well. Add softened butter or melted butter to this and again mix well. Add water little at a time and make a soft and moist dough.
If you have "Kai Murukku Achu" (the mold for making this murukku) you can use it. Another method is a bit complex but you can do it with practice.
Take a thin plastic sheet and grease it with oil. Grease your palm with oil and take a small lemon size dough, twist and turn to make round shape murukku. You can make two or any number of rounds. I would suggest not to use paper since it absorbs the moisture from murukku.
Heat oil in a deep and wide pan over medium heat. Depending on the pan size add less or more murukkus and fry both the sides until the bubbles settle down.
Repeat the procedure with the rest of the dough. Make sure the heat is neither low nor high. Frying these in oil at right temperature is a key for preparing crispy murukku.
Recipe for rice flour:
Raw rice – 2.5 cups
Wash and soak rice for 3 hours. Strain it using a colander and let it rest for 30 minutes. Spread a big clean kitchen towel and transfer the rice. Spread it well and let it dry.
The rice should still have moisture inside but it should not be wet. When you take a handful of rice in your palm you will feel that rice is still moist but dry outside.
Grind rice using a dry grinder or mixie. Sift the ground flour using a fine sieve. Grind the remains with the next batch of rice and continue this procedure until you finish grinding all the rice. Fresh rice flour is ready.
If you have remaining flour, let it dry by spreading it on a news paper for 8 hours. Then store it in an airtight container.