Mixed Nut Brittle – Mixed Nut Chikki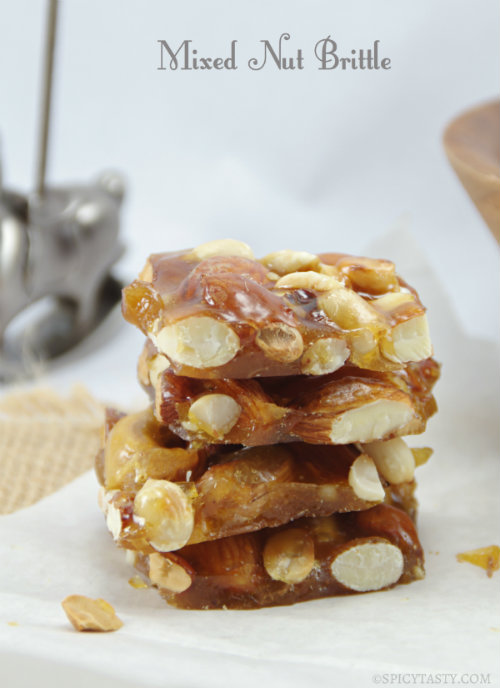 Mixed Nut Brittle is an easy to make snack which can be prepared with all the ingredients from your pantry. My mom always makes brittle or balls with peanuts and jaggery which we all adore. But I always liked brittle made with sugar. Also when you add more nuts, it is less guilt when you eat your sweet treat. The crunchy caramelized sugar with all the nuts makes my mouth water. It's kid friendly and you can make it for the Halloween.
Ingredients:
Almonds – 3/4 cup
Cashew nut – 1/4 cup
Blanched peanuts (without skin) – 1/2 cup
Sugar – 1 and 1/2 cups
Ghee – 1 and 1/2 tbsp
A pinch of baking soda
Method of Preparation: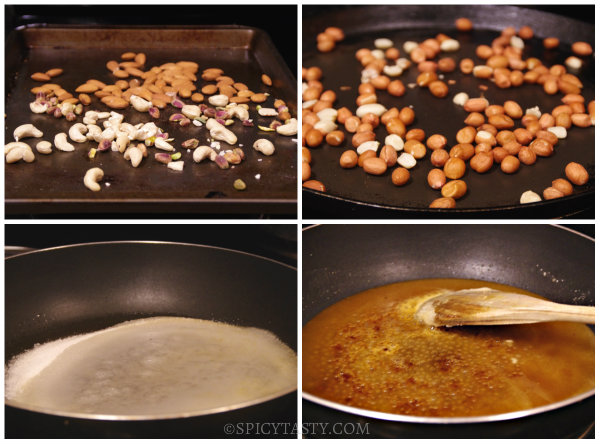 Heat a pan and fry the nuts separately till it is slightly roasted. Do not let it change color.
Or preheat oven to 300ºF and spread the nuts in a tray and place it in the oven for 8 to 10 minutes till it becomes slightly roasted.
You can either use the whole nuts or break it into bits and pieces.
Heat a tbsp of ghee over medium heat and add sugar along with 2 to 3 tbsp of water.
Let it come to a boil . Stir it continuously till it caramelizes or becomes like honey color.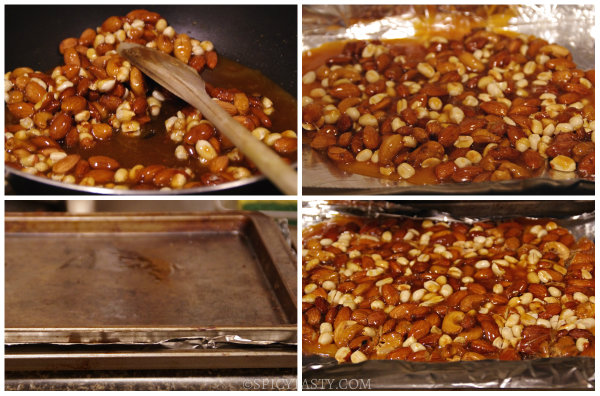 Grease a tray or sheet with ghee and keep it ready.
Add baking soda and nuts. Mix well. Remove from heat and add it to the greased tray and spread it nicely.
Use another tray to press it and level it or use a greased rolling pin.
When it hot, cut into desired shapes with a greased knife and let it cool.
Then break into pieces.