Pazham Nurukku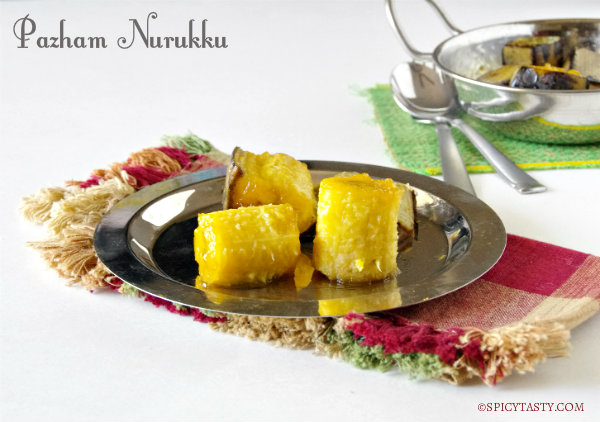 Pazham Nurukku is a Kerala dish made by steaming Nendram Pazham (a popular type of banana from Kerala) and cooking with jaggery. It is a simple dish and a wonderful snack for kids and adults.
Ingredients:
Nendram pazham – 2
Crushed jaggery – 2 tbsp
Ghee (clarified butter) – 1 tsp (optional)
Method of Preparation:

Cut the ends and slice banana into big pieces with skin. Pressure cook for 10 minutes over medium heat without the whistle on. Transfer the cooked banana to a plate.

Heat jaggery with a little water and allow it boil. Add the cooked bananas and allow to cook until the jaggery syrup is absorbed the banana pieces.
Remove from pan and serve with a tsp of ghee sprinkle on top.