Rava Dhokla / Sooji Dhokla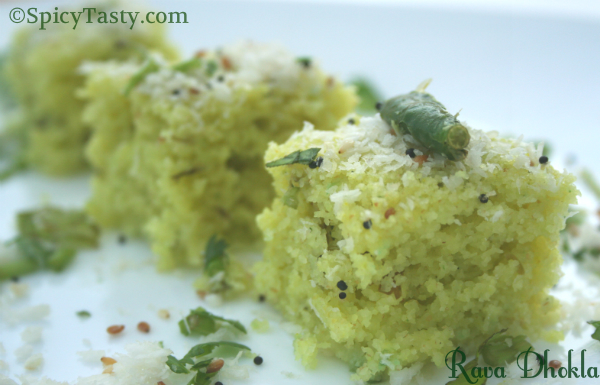 Dhokla is a famous Gujarati snack made of either Besan or Sooji or chickpeas. This is one of my favorite snacks and it is very easy to make. If you are looking for a real quick and tasty snack this is the one :).
Time of Preparation : 20 minutes
No of Servings : 20 pieces
Spice level : 1 out of 5
Ingredients:
Rava (Cream of wheat) – 1 cup
Yogurt – 1/2 cup
Water – 3/4 cup
Green chillies – 1 (finely chopped) (adjust to taste)
Coriander leaves – 1 tsp (chopped)
Green chilli coriander paste – 1 tsp (optional)
Ginger – 1/2 tsp (grated)
Turmeric powder – a pinch
Eno fruit salt – 1 tsp
Salt – 1/2 tsp (adjust to taste)
Oil – to coat the pan
For Seasoning:
Oil – 1 tsp
Mustard seeds – 1/2 tsp
Sesame seeds – 1/2 tsp
Grated coconut – 1 tbsp
Green chillies – 2 (slitted or chopped)
Coriander leaves – 1 tbsp( chopped)
Method of Preparation:
Mix all the ingredients except for oil and fruit salt without any lumps.
Let it rest for 15 minutes. Boil water in a pressure cooker.
When the water begins to boil, add the eno fruit salt. The batter will become fluffy.
Now take a round 9″ pan and coat it with oil or we can use dhokla plates.
Transfer the batter to the pan and keep it in the pressure cooker.
Pressure cook like how we do Idlies in medium heat for 15 minutes.
Turn off the heat and transfer it to a wire rack.
Heat oil in the seasoning pan and add mustard seeds followed by the sesame seeds and green chillies.
Turn off the heat and add the grated coconut.
Garnish with coriander leaves.
Cut them to desired shapes.
Serve it with coriander/mint chutney and sweet chutney
Note:
Adding green chilli coriander paste is totally optional. Since I have added it, the color is greenish yellow.
Adding turmeric is also optional.