Vegetable Cutlet (Version 2)
Vegetable Cutlet is a perfect tea time snack and wonderful appetizer which is popular among kids and adults. It is prepared from boiled vegetables and spices which is then fried in oil. It can be served with hot and sweet chutney or green chutney or ketchup.
You can prepare the mixture ahead and refrigerate it for up to 3 to 4 days so that you can just fry them in the evening time and serve it along with tea. Or when you have a party, you can prepare the balls, coat it with bread crumbs, refrigerate it and then fry it just before serving.
Enjoy the easy and tasty Vegetable Cutlets!!
Preparation time: 20 minutes
Cooking time: 45 minutes
Yield: 25 cutlets
Spice level: 2.5 out of 5
Ingredients:
Potato – 3 (s7uyyburbig)
Carrot – 2
Green peas – 2 tbsp
Cut Beans – 1/3 cup
Chopped onion – 1 cup
Ginger paste – 1 tsp
Garlic – 1 tbsp
Coriander leaves – 3 tbsp
Mint leaves – 2 tbsp
Turmeric powder – 1/4 tsp
Chili powder – 1 tsp
Coriander powder – 2 tsp
Garam masala – 3/4 tsp
Salt to taste
All purpose flour or maida – 1/2 cup
Bread crumbs – 1 cup
Oil for frying
Method of Preparation: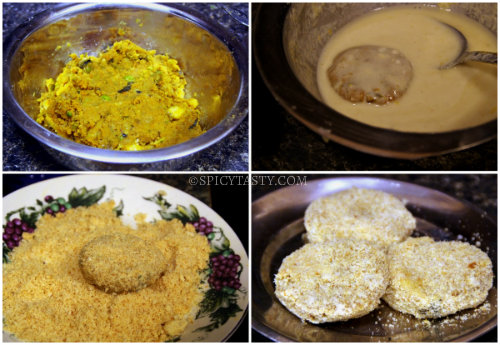 Boil potatoes and peel the skin. Mash the potatoes and set it aside.
Heat a tsp of oil in a pan and add add onions. Saute till it becomes translucent. Add ginger and garlic and toss for a minute. Add green peas and cut beans in a blender or mixer grinder and pulse for 2 to 3 times. Add this to the pan along with shredded carrot.
Sprinkle water and cook for 3 to 4 minutes and add turmeric powder, chili powder, coriander powder, garam masala and salt. Cook until the raw smell is gone (about 5 to 8 minutes) over medium heat. Check for salt and add more if required. Add mashed potatoes and mix everything well so that the mixture is combined well.
Turn off the stove and add chopped mint and coriander leaves and mix well.
In a bowl make a thin batter with all purpose flour and water. Make small balls from the prepared mixture, flatten it and dip it in the all purpose flour batter and then drop it in the plate with bread crumbs. Coat it with bread crumbs all over and place it in a plate.
Repeat the procedure and prepare the rest of the cutlets. You can prepare this ahead and refrigerate it and then fry it just before your guests arrive.

Heat oil and drop 3 to 4 cutlets at a time depending on the size of your oil pan. Turn both the sides and cook until it becomes brown.
Remove from oil and place it in a plate lined with paper towel. Fry the remaining cutlets.
After a few batches, you will notice the bread crumbs settled at the bottom. So remove oil and filter it to remove those burnt crumbs and then use the oil for frying. For big batches or more number of cutlets, I would recommended to change oil in between.