Cinnamon Roll
Cinnamon Roll is a sweet pastry made of yeast dough and filled with sugar, cinnamon and raisins and finally sprinkled with vanilla glaze. The smell of cinnamon bun is so refreshing that you can never say no to it. This is a simple eggless recipe which can be easily. Prepare this dish for the Thanksgiving and enjoy your holidays.
Preparation time: 2 hours
No. of servings: 12
Ingredients:
All purpose flour – 2 1/4 cups
Active yeast – 1/2 pack (1/8 oz)
Warm water – 3 tbsp
Sugar – 1 tsp
Baking soda – 1/2 tsp
Baking powder – 1/4 tsp
Salt – 1/4 tsp
Butter milk – 3/4 cup
Oil – 1/4 cup
For Filling:
Light brown sugar – 1/2 cup
Ground cinnamon – 1/2 tsp (If you want less cinnamon add 1/4 tsp)
Butter – 1/4 cup (room temperature)
Method of Prepartion: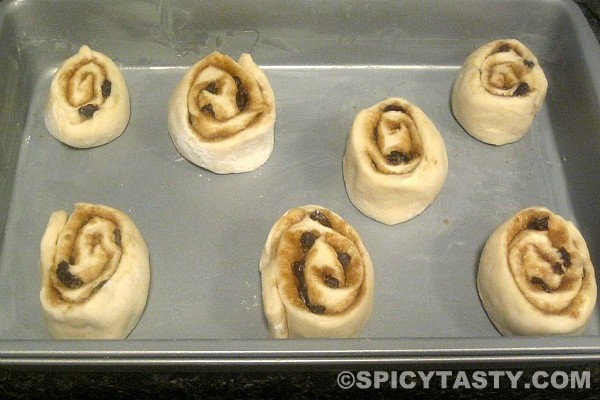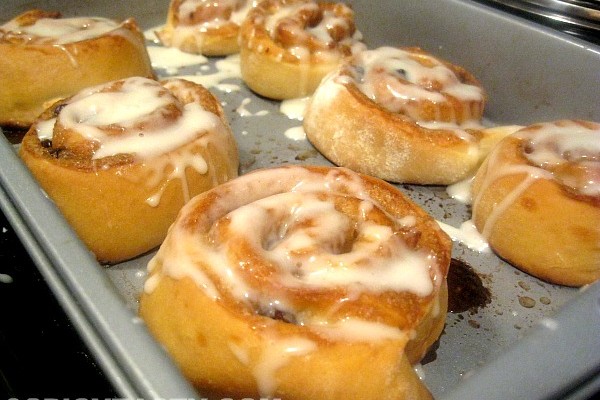 In 3 tbsp of warm water add active yeast and let it sit for 10 mins. It will be bubbling.
Sift flour, baking soda, baking powder and salt in a mixing bowl and whisk everything well.
Once the yeast is bubbling, add buttermilk and oil and whisk until foamy.
Add half the yeast mixture to the flour and mix well.
Slowly add the rest of the yeast to the flour and make a smooth dough. Add flour if the dough is sticky.
Knead the dough for 15 minutes on a flat surface dusted with flour.
Oil the mixing bowl and rub the dough with oil, cover it with a plastic wrap and let it rise for an hour.
In a small bowl mix brown sugar, cinnamon and butter and mix well.
Once the dough has risen, place it on a floured surface and roll into a large rectangle.
Spread butter on top leaving the edges. Generously sprinkle sugar on top and spread it.
Sprinkle raisins and start rolling the dough carefully. Seal the edges.
Cut into 12 equal parts and place it in a greased baking tray. Cover and let it rise for 45 minutes. If you have more rolls, you can place them close to each other. It is not necessary to leave a lot of space in between rolls.
Preheat oven to 375°F. Bake the rolls for 20 to 25 minutes.
Remove from oven and line it on a wire rack.
Preparation of frosting: In a bowl, whisk confectionary sugar, vanilla extract and warm milk together until creamy.
Drizzle the frosting over the Cinnamon rolls and serve hot.