Nan Khatai (Spiced Shortbread Cookies)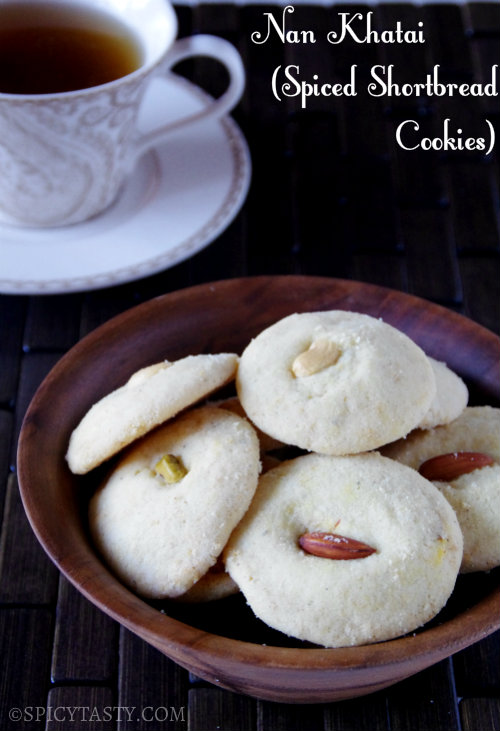 Nan Khatai is an egg-less cookie spiced with cardamom, saffron and nutmeg. These easy to make cookies are soft inside and crispy outside and makes a perfect holiday gift for your family and friends. You can serve them with tea or coffee. So enjoy these lovely homemade cookies!!
Preparation time: 15 minutes
Cooking time: 20 minutes
Yield: 22 cookies
Ingredients:
All purpose flour – 3/4 cup and 3 tbsp
Semolina (rawa) – 1 tbsp (optional)
Unsalted butter – 1/2 cup (at room temperature)
Sugar – 1/2 cup
Cardamom pods – 3
Baking powder – 1/4 tsp
Salt – 1/8 tsp (a big pinch)
A pinch of nutmeg powder
A pinch of saffron
Milk – 2 tbsp
Broken nuts (cashew nut, pistachios and almonds)
Method of Preparation:
Preheat oven to 300ºF.
Powder sugar with cardamom pods in a mixer grinder or a food processor until fine.
Add butter to a mixing bowl and beat it using a hand mixer. Add powdered sugar and blend well. Scrape the sides using a rubber spatula.
Soak saffron in warm milk. Sift flour with baking soda and salt in a separate bowl. Mix in semolina.
Add flour and saffron to the butter and sugar mixture. Mix well using hands until you get a smooth dough. Divide it into equal portions and roll into a smooth of ball and spread it on a baking sheet lined with parchment paper.

Leave enough space between the cookies. Garnish with cashew nut, almonds and pistachios. Bake for 20 minutes or until the bottom part turns slight golden brown.
Remove from oven and let it cool for 5 to 10 minutes on a wire rack. Store it in an airtight container.