Red Velvet Whoopie Pie
From Wikipedia: The whoopie pie (alternatively called a gob, black-and-white, bob, or "BFO" for Big Fat Oreo) is an American baked good that may be considered either a cookie, pie, or cake. It is made of two round mound-shaped pieces of chocolate cake, or sometimes pumpkin or gingerbread cake, with a sweet, creamy filling or frosting sandwiched between them. Whoopie pies are considered a New England phenomenon and a Pennsylvania Amish tradition.
Today I have made a Red Velvet Whoopie pie filled with delicious cream cheese frosting. This is a big sandwich cookie and may be you need someone to share it with or may be not :). Make these delicious cookies for the Thanksgiving and share it with your friends and family.
Preparation time: 45 minutes
No. of servings: 12
Ingredients:
All purpose flour – 2 cups
Unsweetened cocoa powder – 1/4 cup
Baking soda – 1/2 tsp
Baking powder – 1/2 tsp
Salt – 1/4 tsp
Granulated white sugar – 1 cup
Unsalted butter – 3/4 cup (room temperature)
Large egg – 1 (room temperature)
Pure vanilla extract – 1 tsp
Buttermilk – 3/4 cup
Red liquid food color – 2 tsp
For Cream Cheese Frosting:
Unsalted butter – 1/2 cup
Cream cheese – 8 oz
Confectionery sugar – 2  1/2 cups
Pure vanilla extract – 1 tsp 
Method of Preparation: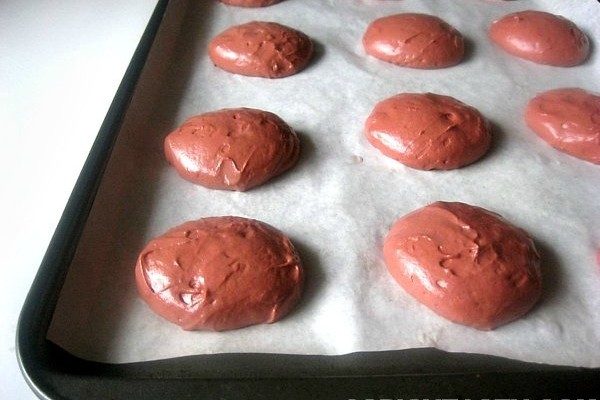 Preheat oven to 375°F.
Line two baking sheets with parchment paper or grease with butter or cooking spray. Keep all the ingredients ready on your counter.
Sift all the dry ingredients together in a bowl.
In another deep bowl, add butter and beat it using an electric hand mixer until creamy and fluffy. Add sugar and beat it until smooth and creamy.
Add the egg and vanilla extract and beat it until everything comes together. Scrape the sides in between.
Now add half the flour to the bowl and blend it together using a rubber spatula and then beat it with the hand mixer.
In a cup add buttermilk and red food coloring and mix well.
Add the buttermilk to the batter in the bowl and mix well and then beat it at low speed.
Now add the rest of the flour and scrape the sides and mix well. Beat the mixture with the hand mixer until smooth.
Spoon the batter onto the baking sheet leaving enough space between cookies. You can use an ice cream scoop.
Bake it for 10 minutes or until a toothpick inserted into the middle of the cookie comes out clean.
Remove from the oven and let it cool.
Preparation of Cream Cheese Frosting:
Add butter in a bowl and beat until fluffy.
Add cream cheese and beat until smooth and creamy.
Now add vanilla extract and confectionery sugar.
Beat on low speed until creamy and thick.
Assembling the Cookie:

                          Take a cookie and and spread with a good amount of frosting and cover it with another cookie on top. Press a little. To decorate it, thin a little bit of frosting with a little milk and fill it in a ziploc bag or a plastic bag and make a small opening at the end. Squeeze it over the cookie and serve.