Thumbprint Cookies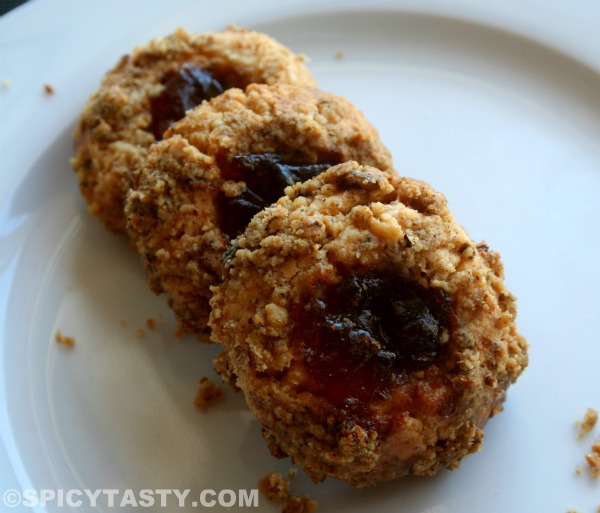 These thumbprint cookies are the super hit of this vacation. Everyone loved this cookie and the nuts and jam made them extra tasty. Here goes the recipe for this Thumbprint cookies.
Time of Preparation : 40 minutes
No of Cookies : 20
Ingredients:
Unsalted butter – 1/2 cup (room temperature)
White sugar – 1/4 cup
Egg white – 1
Egg yolk – 1
Vanilla Extract – 1 tsp
All purpose flour – 1 cup
Salt – a pinch
Nuts (I have used walnuts) – 1 cup (roasted and chopped)
Jam – 1/3 cup
Method of Preparation:
In a bowl mix the butter and sugar using hand mixer until fluffy.
Add the egg yolk and vanilla extract and beat well with the hand mixer.
Keep the egg white aside.
Add the all purpose flour and salt little by little and beat until it is combined.
Refrigerate for one hour and roll them to equal sized balls around 1 inch.
Beat the egg white until fluffy. Dip the balls in egg white and roll them over the dried walnuts.
Press the roll on the top using the thumb and fill them with 1/3 tsp of jam.
Line a baking sheet with parchment paper.
Preheat the oven to 350 F and place the balls in the baking tray in the center of the oven for 15 to 18 minutes or until golden brown.
Let it cool completely and store them after an hour.
Note:
We can use nuts of any choice. Dry roast them in oven for 10 minutes and crush them to pieces.
In the same way we can use jam of any choice.