Grilled Chicken Tikka
Summer is here so why don't we have fun outside with some grilling. My husband and I we both love grilling.  We made this delicious chicken tikka for our dinner.
This is one of the most popular dishes in north India.The word Tikka means bits, pieces or chunks. Chicken Tikka is an easy-to-cook dish in which chicken pieces are marinated in special spices and yogurt and then grilled or baked in a clay based Oven called Tandoor. Chicken tikka can also be made as a curry or gravy called Chicken Tikka masala which is also popular in most of the Indian Restaurants.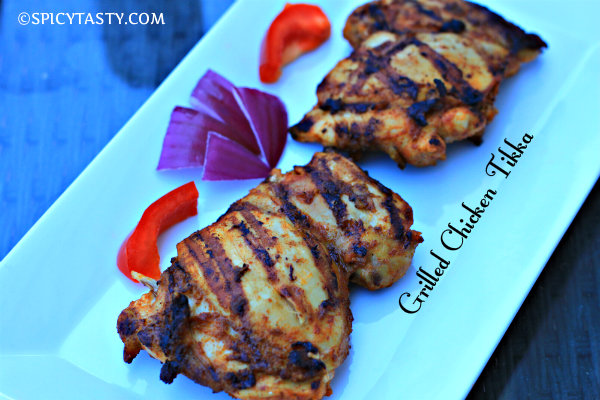 Preparation Time : 1hour and 30 minutes
Spice level : 2 out of 5
No of servings : 3
Ingredients:
Chicken : 1 lb(I've used Chicken Thighs)
Lemon Juice : 2 tsp
Yogurt:1 tbsp
Food coloring : 1 tsp (optional)
Garlic : 2 (peeled and chopped finely)
Ginger : 1 tsp (corasely chopped)
Salt : to taste
Coriander Powder : 11/2 tsp
Red Chili powder : 2tsp (adjust according to your spice level)
Garam masala Powder : 1/2 tsp
Turmeric powder : 1/4 tsp
Cooking Oil : 2 tbsp
Method of Preparation :
Clean and wash the chicken and add lemon juice and salt, mix it well and keep it covered for 30-40minutes.
After that blend the rest of the ingredients in a blender or mixer or a food processor until it becomes smooth.
And add the  ground paste into the marinated chicken from step 1 and again keep it marinated for another 30 to 60 minutes.
Preheat your oven or grill to a medium high temperature (200 C/ 400F)
After that grill the marinated chicken until it becomes fully cooked and juicy.
Serve it hot with some onion rings and lemon on the side.