Chole Bhatura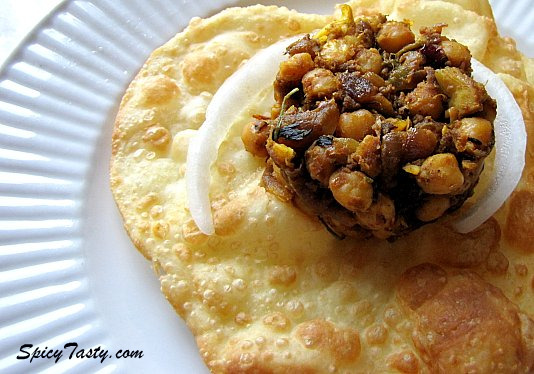 Chole Bhatura is a mouth watering dish and is the bigger cousin of a well-known Indian breakfast dish – Poori. Chole Bhatura is a combination of Chick Peas dish (chole) and the fried bread made from maida flour (bhatura).
My memory of Chole Bhatura growing up in South India has been that it is one of those exotic dishes that you can eat at a restaurant. I still remember the big puffed up dish served hot with fresh cut onions and a sliver of lime.
It turns out that even though it takes a little bit of time, Chole Bhatura can be made at home! And I am here to share that secret with you. Although I have to give a special mention to our friend Archie, who gave away his secret to making the perfect Bhatura! Read on..
Ingredients:
Bhatura Recipe:

Maida : 2 cups
yogurt : 3 tbsp
Sooji/Semolina : 2 tbsp
Egg : 1 large (optional)
salt : 2 tsp
Baking Powder : 1 tsp
Chole  Curry Recipe:
Chick peas/Channa : 2 cups (soak it in overnight or soak in hot water for 2 hrs and pressure cooker )
Onions : 2 (medium)
Oil : 3 tbsp
Curry leaves : 5-6
Green chilies : 4
Tomato : 1/2
Ginger and Garlic paste : 1  tbsp
Red chili powder : 1 1/2 tbsp
Coriander seeds : 1 tbsp
Garam masala Powder : 1/2 tbsp
Chole masala : 2 tbsp (optional if you have any instant masala powder)
Coriander leaves : 2 tbsp
Method Of Preparation:
Batura :
Take a wide vessel add maida, yogurt , salt, sooji/semolina, baking powder, egg (whisk lightly), and slowly add some warm water (Enough to knead the dough) and make a soft dough.
Cover the dough with some  wet cloth and keep it aside in warm place for fermentation. (about 3-4 hours)
After that divide the dough into 12-14 equal portions and roll them into smooth balls.
And  roll the small balls individually into big sized puri.

Choose a thick-bottomed pot and heat oil in it for deep frying.

Make sure the oil is medium hot – you could drop a little dough to check this.

Now gently slide the flattened Batura dough into the oil and gently press the batura in the center and along the edges into the oil with the back of a spoon/ladle.

This should make it puff up nicely. Once its golden brown, turn it over and do the same.

Make sure you have enough heat to cook the insides but high heat will just turn it into a dark color. The right medium heat is the key here.

Serve it hot with chole masala.
Chole Curry:
Take 1/4 cup of the pressure cooked channa and just pulse it in the blender and keep it aside.
Heat oil in a pan add bay leaves , cloves and cinnamon after that add onions and fry them till it becomes lightly brown.
Add green chilies, curry leaves and ginger garlic paste mix it all together fry them till the raw smell goes off and add the tomatoes now .
Just mash it and add salt , turmeric powder, red chili powder, garam masala powder and  chole masala(optional)  mix it all together.
Let it sit in the heat fry them till it becomes dry and the  masala smell goes off.
After that add ground channa and the remaining whole channa mix it all well and cook in medium heat for 5- 10 minutes.
Finally add the coriander leaves toss it all together and remove from heat.
Serve hot with bhatura and lime 🙂