Toor Dal Adai / Split Pigeon Peas Crepes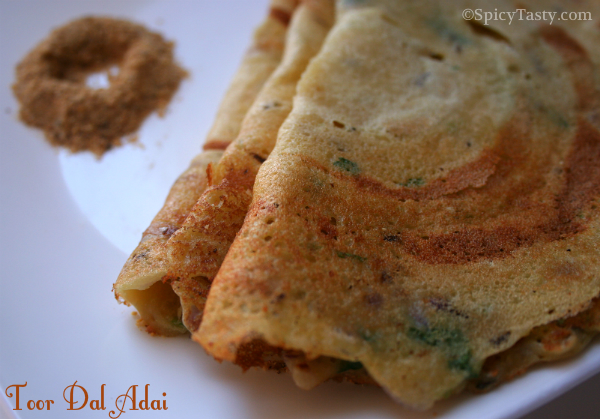 When you think of making something quickly, Adai is one of the easiest choices. Adai can be stored in refrigerator even for a week without adding onions. Also it need not be fermented before we use it. Here is the recipe for simple Toor Dal Adai..
Time of Preparation : 45 minutes
Resting time : 4 to 5 hours
No. of Servings : 5 to 6
Spice level : 3 out of 5
Ingredients:
Par Boiled rice – 1 cup
Split Pigeon Peas – 3/4 cup
Green chillies – 6
Cumin seeds – 1 tsp
Red chillies – 2
Asafoetida – a pinch
Onions – 1/2 cup (finely chopped)
Curry leaves – a few
Coriander leaves – 3 tbsp (chopped)
Oil – 1 tbsp
Salt – to taste
Method of Preparation:
Soak the rice at least for 4 to 5 hours and toor dal for 1 hour minimum.
Grind the rice like how we grind for Idly batter either in grinder or in mixie until they are 3/4th done.
Add the green chillies and toor dal to it and grind them.
The batter should not be too soft. It should be in the regular adai consistency.
Heat oil in a vessel and add the cumin seeds, asafoetida, red chillies, curry leaves and onions.
Fry the onion leaves till they become translucent and them to the batter along with coriander leaves.
Add some salt and mix well.
Heat a dosa pan and make thin crepes. Add 1/4 tsp of oil.
Turn the other side when they turn golden brown.
Remove from the pan when both the sides are done.
Serve hot with podi or chutney.
Note:
Instead of green chillies, we can use red chillies while grinding the batter.