Mango Kulfi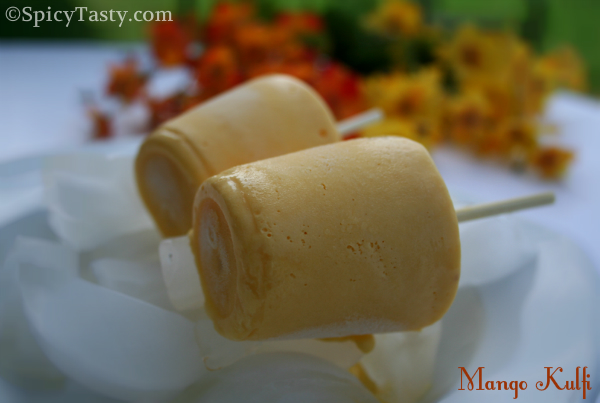 Mango Kulfi is a popular Indian Dessert (Ice cream) which is made of mango pulp and dairy products. For this, we do not need an ice cream maker and we just need a hand mixer or blender. This rich and creamy dessert is so perfect for the summer or even rainy days :).
Time of Preparation : 20 minutes
Resting Time : 8 hours
No of Servings : 30 (approx)
Ingredients:
Mango Pulp – 30 oz (I have used 1 tin of kesar mango pulp)
Sweetened Condensed milk – 14 oz
Heavy Whipping Cream – 16 oz (1 pint)
Cool whip – 8 oz
Sugar – 1 1/4 cup
Full fat milk or Evaporated milk – 2 cups
Saffron – a pinch
Almonds – 1/4 cup
Soak the almonds in hot water for 15 to 30 minutes and remove the skin.
Soak the saffron in warm milk for 10 minutes.
Make a smooth paste of the almonds with milk in a blender.
Now add all the ingredients with almond milk and blend them in a blender or a hand mixer.
Now transfer the mixture to molds or plastic cups.
I have used 3 oz plastic cups instead of molds.
After pouring the mixture to plastic cups, cover them with aluminum foil.
Insert sticks to the center.
Keep them in the freezer for at least 6 to 8 hours.
Remove from the freezer and remove the aluminum foil.
Hold the cup between the palms and roll the cup for a minute.
Then we can remove the kulfi easily.
Note:
For blending I used my Indian mixie largest jar. If you are not able to blend at one time, divide them to 2 to 3 parts and blend.
Using blender is easier than hand mixer.
We can increase the cool whip by 8 oz if we need more softer Kulfi.
We can use any stick. I have used skewers instead of sticks.
We can freeze the Kulfi in a tray too. We can serve it as pieces or scoops too.
I couldn't find exact no. of servings because I have prepared 15 cups and kept the remaining in tray.