Vanilla Ice cream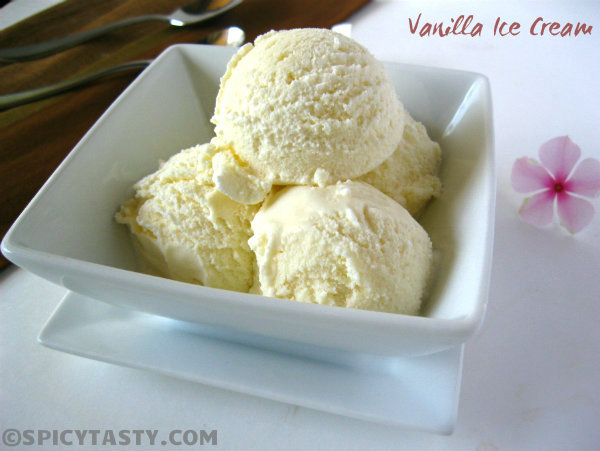 Vanilla is the most popular flavor among ice creams. This is a simple and delicious recipe for Vanilla Ice Cream and I used my old fashioned Aroma ice cream maker to prepare this. You can use vanilla bean or pure vanilla extract. Vanilla beans are generally available in grocery stores and super markets or you can buy them from ebay or amazon.com in large quantity for less price. If you are using vanilla extract try to use the pure extract which is always good. After preparing the ice cream store it in an air tight container covering the box with a cling wrap or a plastic sheet and then with the lid. You can store it upto 2 to 3 weeks or if unopened you can store it for long. It is always good to have homemade ice cream which is fresh and tasty without any preservatives or additives. It is totally worth the effort. I will also be sharing a recipe without adding eggs very soon. Keep checking…
Resting time: 4 to 8 hours
Preparation time: 60 minutes
Yield: 2 to 2.25 quarts
Ingredients:
Heavy cream – 3 cups
Half and half – 2 cups (can substitute with whole milk)
Whole milk – 1 cup
sugar – 1 and 1/2 cups
One vanilla bean split and scraped or 2 tsp pure vanilla extract
Egg yolks – 3
Corn starch – 1 tsp
A pinch of salt
Method of Preparation:
Combine salt and corn starch in a sauce pan and add heavy cream, half and half, milk, and vanilla bean. Over medium heat bring it to a slow boil and reduce to low heat. Take 1 cup of this mixture in a bowl and keep it aside.
In another bowl whisk eggs and sugar together.
Now slowly add the warm milk mixture from the bowl to the whisked eggs stirring constantly to avoid forming lumps.
Add this mixture back to the sauce pan slowly and stirring constantly. Check for sugar and add more if required.
After a minute, remove from heat and transfer it to another bowl through a strainer and let it cool.
Refrigerate it for 3 to 4 hours or preferably over night along with ice cream container and other parts such as paddle (if any).
Next day stir the cool custard and transfer it to the ice cream container and churn according to the manufacturer's instructions.
Once the desired consistency is obtained, serve immediately or transfer it to an airtight plastic container and store it in the freezer.
If it becomes hard, keep it in the refrigerator for 15 minutes before serving.