Shrimp Fettucine Alfredo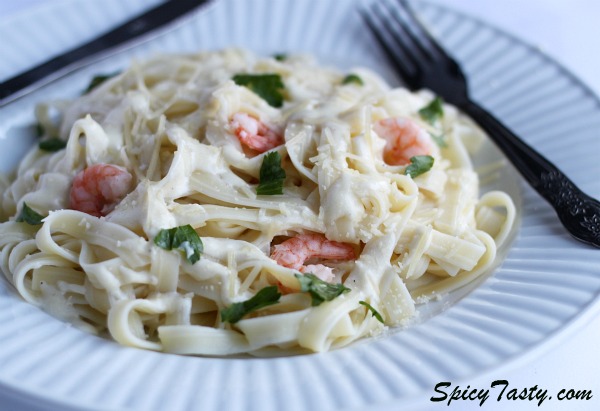 Fettuccine Alfredo is one of my favorite Italian dished. Whenever we go to Olive Garden or any other Italian restaurant this is one of the dishes I order often – sometimes with shrimp and other times with chicken.
I love the rich & creamy flavor of the Alfredo sauce . I've always wanted to make this at home. Recently I was watching Food network and I saw this recipe. I didn't expect it to be this simple. So I decided to give it a try and make it for dinner. Voila, it came out really yummy and it is very easy to make.
Preparation Time : 40 minutes
No of Servings : 3-4
Spice Level : 0 out of 5
Ingredients:
Fettuccine : 1 pound
Shallot : 1 (minced)
Heavy Cream : 2 cups (also sold as whipping cream in a small milk like carton)
Cream cheese : 5 tbsp
Unsalted Butter : 1/2 stick
Salt : to taste
Pepper: 1/4 tsp
Garlic Powder : 2 tsp
Parmigiano-Reggiano : 1 cup finely grated
Cooked Shrimp : 1/2 cup (Peeled and deveined)
Fresh parsley, for  garnish
Method Of Preparation:
In a sauce pan melt the butter and add shallots and fry them till it becomes translucent.
Now add heavy cream, bring it to boil by stirring it constantly.
And add the cream cheese, salt and garlic powder, mix it all together.
Cook until the above mixture becomes a thick sauce. Finally sprinkle some pepper on it and remove from heat.
Cook the fettuccine in a salted boiling water until it's well done.
Just reserve 1/4 cup of pasta in cooked water and strain the remaining water and keep the pasta separately.

Heat Olive oil in a wide pan  add the pasta and reserved pasta water stir it and add cooked shrimp, alfredo sauce and half of the grated parmesan cheese.
Toss it all together and cook for 2-3 minutes and  remove from heat.
Serve it hot with the remaining Parmesan and parsley.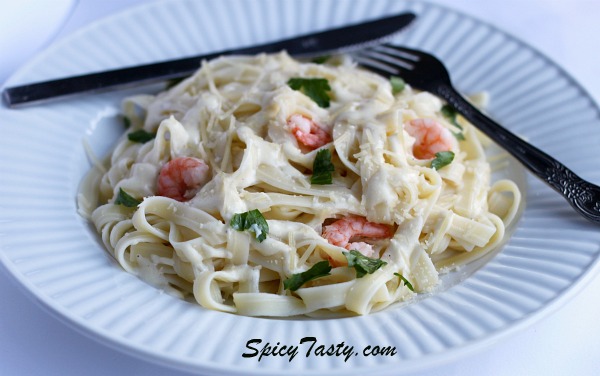 Note:
You can make it with or without shrimp. If you want chicken in it add some cooked chicken breast into it.
If you try it, let me know how it turned out for you. You can always leave your comment here or on SpicyTasty Facebook page or tweet us at @SpicyTasty.