Oats Cutlet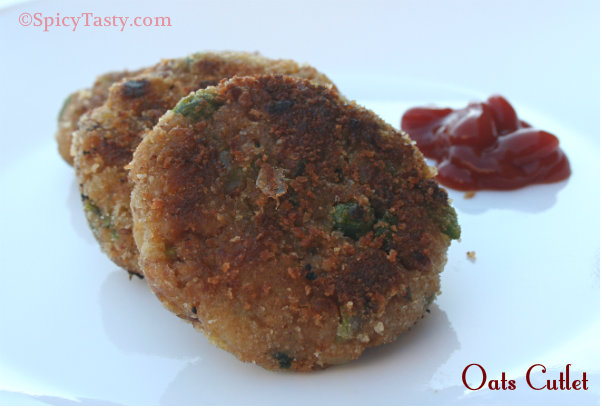 Now a days I want to try many recipes with oats. This is my first recipe with oats. I got this idea from my friend Jayanthi and I liked it. It is very easy to make and it is tasty to. It is very healthy too when compared to most of the snacks.
Time of Preparation : 30 minutes
Spice level : 3 out of 5
No of Pieces : 11
Ingredients:
Oats – 1/2 cup
Onions – 1 cup (finely chopped)
Green Chillies – 6 (finely chopped)
Ginger – 1 tsp (grated)
Potatoes (boiled and mashed) – 2 (I have used 2 large go;den yellow potatoes)
Peas – 1/3 cup (boiled)
Red chilli powder – 1/2 tsp
Sambar Powder – 1/2 tsp
Cumin Powder – 1/2 tsp
Garam masala – 1/4 tsp
Salt – to taste
Bread crumbs – 1/2 cup
Oil – 1/3 cup
Coriander leaves – 1 tbsp (chopped)
Method of Preparation:
Dry roast the oats and grind it to fine powder and keep it aside.
Heat 2 tsp of oil in a pan and add the cumin seeds.
When it starts to splutter, add the chopped green chillies followed by the chopped onions and salt.
When the onions become translucent, add the grated ginger.
Toss it for 2 minutes and add the red chilli powder, sambar powder, cumin powder, garam masala and fry for 2 minutes.
Now add the mashed potatoes and peas and fry for another 5 to 10 minutes.
Add the chopped coriander and mix well.
Then add 1/4 cup of oats powder and combine well.
It will become more thick.
Divide to 11 or 12 equal parts and make it as round flat or oval shaped cutlets.
Coat two sides with bread crumbs.
Heat a pan or griddle and add 1/2 tsp of oil and place the cutlets.
Add 1/2 tsp of oil on the top. When the bottom side turns golden brown, turn the other side.
Remove when the other side also turns golden brown, remove the pan.
Serve hot with tomato ketchup.
Note:
It will be more tasty if we deep fry the cutlets.
If we want to deep fry, coat the cutlets with maida water paste and then with bread crumbs. Then deep fry them.
If we want we can add any veggies like, carrot, beans, cauliflower etc..by boiling and mashing them.